May 15, 2023
By Chuck Steenburgh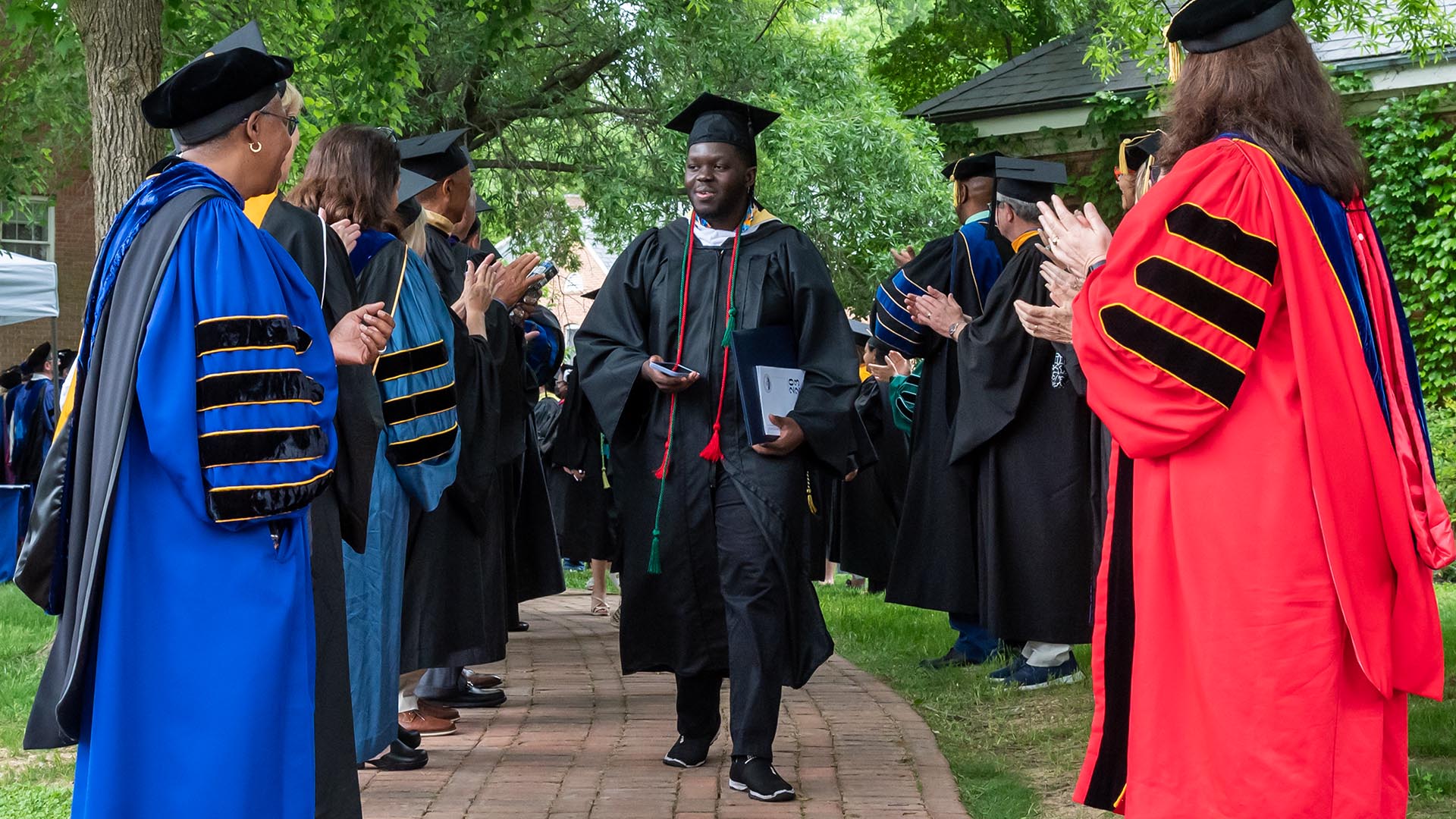 Two hundred ninety-four students received Bachelor of Arts, Bachelor of Science, and Master of Arts in Teaching degrees from St. Mary's College of Maryland, the National Public Honors College, in the annual Commencement held on Saturday, May 13 on the College's Townhouse Green.
Five-time Grammy Award winner Angélique Kidjo delivered the Commencement address, reminding graduates that true success comes from lifting up those around you, just as the graduates achieved success through the people who supported them. "To be a successful person, you need to recognize the people that have invested in you, that have seen something special in you, that have given all they have for you to become whoever you want to be," said Kidjo. "No one, I say no one, succeeds alone." She followed her remarks with a song of thanks, which she performed from the podium a cappella.
St. Mary's College of Maryland President Tuajuanda C. Jordan, PhD, and Board of Trustees Chair Susan Lawrence Dyer presented honorary degrees to Kidjo and Nancy Ruyle Dodge.
One of the most powerful artists in international music today, Angélique Kidjo dazzles audiences with her striking voice and theatrical stage presence. She merges the West African traditions of her childhood in Benin with elements of American R&B, funk and jazz, as well as influences from Europe and Latin America. As a goodwill ambassador for UNICEF and OXFAM, she travels the world advocating on the behalf of children in her capacity, volunteering her time to raise awareness and aid in mobilizing support.
With her husband, the late Norton T. Dodge, Nancy Dodge has been a champion of the liberal arts and St. Mary's College of Maryland for more than 50 years. Together the Dodges established endowed faculty awards for excellence in teaching, outstanding service, and scholarly and creative achievement. The Dodge's Cremona Farm in Mechanicsville, Maryland has been another resource shared generously with St. Mary's College students and faculty. In 2020, Nancy established the Norton T. and Nancy R. Dodge Scholarship for St. Mary's College students. In 2022, Nancy made the largest private gift in the College's history, to name the Nancy R. and Norton T. Dodge Performing Arts Center.
Four students from the Class of 2023 earned the honor of serving as valedictorians: Hannah Gorel, a double major in computer science and mathematics from Jessup, Maryland; Nicolette Iacona, a psychology major from Severna Park, Maryland; Eleanor Pratt, a history major from Leonardtown, Maryland; and Emily Rudo, a double major in environmental studies and political science from Elkridge, Maryland. Gorel was chosen by lottery to deliver the valedictory address.
In her remarks, Gorel noted the impact of COVID on her class, citing a "Keep Moving Forward" theme and their persistence in keeping the traditions of the College alive in spite of those obstacles. "Whether it was a bad test grade, a hard class, friend troubles, or COVID itself, all we had to do was to keep moving forward to make it to these seats today," she stated.
President Jordan acknowledged three retiring faculty during the ceremony: Jeffrey Byrd, professor of biology and interim associate provost; Jeffrey Hammond, professor of English; and Joshua Grossman, professor of physics. Byrd and Hammond joined the College's faculty in 1990, while Grossman joined in 2007.
In her charge to the Class of 2023, President Jordan stated, "my expectation is that you will take your passions, your skills, and the knowledge you have gained at this place to create a more just and humane society for all."
The ceremony was streamed live, and that video recording, photos, and additional information can be found at https://www.smcm.edu/commencement-2023/.
About the Valedictorians
Hannah Gorel is a double major in computer science and mathematics. She is a member of Chi Alpha Sigma honor society and the captain of the varsity women's tennis team. She is president of the College chapter of the Society for Industrial and Applied Mathematics and has interned at Microsoft, Visionist Inc., and General Dynamics Missions Systems. She also serves as a student ambassador coordinator.
Nicolette Iacona is a psychology major with a minor in art. She is a member of both Chi Alpha Sigma and Psi Chi honor societies and is a research assistant in the psychology department's virtual reality lab. She is a captain on the women's varsity rowing team, for which she has coordinated multiple major community service projects in partnership with Shiloh Manor Horse Farm in the surrounding St. Mary's community. She is also a recipient of the 2023 Female Scholar Athlete Award.
Eleanor Pratt is a history major with a creative writing minor. She is a member of Phi Beta Kappa and Phi Alpha Theta honor societies and was the editor-in-chief of The Point News. She has served as the editing and communications intern for the Center for Career and Professional Development, a student assistant to the history department, a peer-to-peer mentor, and as vice president of Phi Alpha Theta.
Emily Rudo is a double major in environmental studies and political science with a minor in sociology. She is a member of Pi Sigma Alpha honor society and serves as the president of the Student Government Association and a coordinator of student ambassadors. She has served as a Senate environment and infrastructure policy intern and as a campaign assistant for State Delegate Brian Crosby (D-Md). She was also the editor of the spring 2022 edition of Open Water: An Undergraduate Journal in the Social Sciences and a member of the College's 2022-2023 Strategic Planning Steering Committee.