March 14, 2023
By Angela Draheim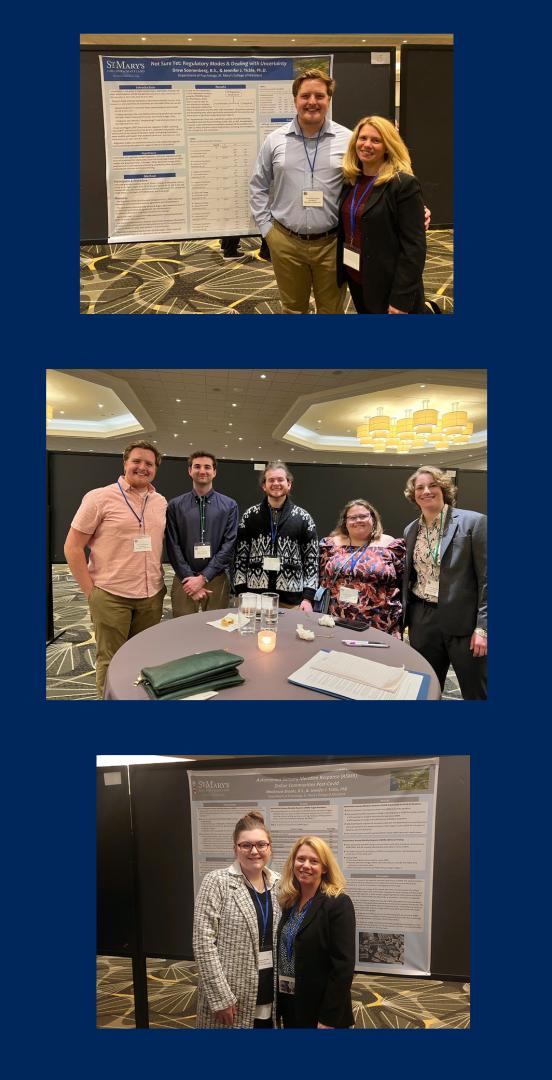 Students Nicholas Ashenfelter '23, Nicollete Iacona '23 and Caroline Taylor '23, alumni Mackenzie Brooks '22, Mason Drusano '22, Julia Kochman '23, Gabriel Richards '22, Drew Sonnenberg '22 and Jacinda Thomas '22, Associate Professor of Psychology Jennifer Tickle and Assistant Professor of Psychology Gili Freedman presented research at the Annual Meeting of the Eastern Psychological Association in early-March 2023. First authors as listed led the following poster presentations:
Ashenfelter, Iacona, Sonnenberg, Thomas and Tickle presented on a directed-research-based project "Color Me Stressed: The Effect of Virtual Reality, Online, and Traditional Coloring on Relaxation." Coloring has been found to reduce stress and anxiety, but little is known about how the format of coloring might affect these results. The present research examined differences in relaxation and stress provided by three forms of coloring: coloring within virtual reality, coloring in a 2D coloring app or coloring on paper. All formats reduced stress and increased relaxation, but differences were not seen overall between formats. The findings were discussed in terms of facilitating mental health. Thomas is pursuing a MSW from University of Mayland, Baltimore School of Social Work.
Brooks and Tickle presented a directed-research based project entitled "Autonomous Sensory Meridian Response (ASMR): Online Communities Post-COVID." Autonomous sensory meridian response (ASMR) is a pleasant, tingling sensation that generally starts from the top of the head and radiates through the rest of the body inducing relaxation. This research used an online survey on Prolific of those who experienced ASMR to examine their participation in online groups and whether they reported changes in their ASMR use during the pandemic. Neither community connections nor pandemic related changes were particularly prevalent in this sample. Brooks is pursuing a PhD in criminology from University of Delaware.
Taylor, Richards, Ashenfelter, and Tickle presented a directed-research-based project entitled "To Be Seen, or Not to Be Seen: The Effect of Camera Settings in Zoom on Attention and Self-Views." Research has shown increased cognitive load and appearance concerns when interacting over video conferencing. This study experimentally manipulated video settings (camera on, camera on but self-view hidden, camera off) to examine how these settings would affect attention to a presentation, attention to self or others, appearance concerns, and zoom fatigue. Memory, attention, and fatigue were generally unaffected in this setting, but appearance concerns continued to be higher in camera on settings. Results have implications for suggested video settings in classroom and work environments. Richards is a housing specialist for Cornerstone Montgomery.
Kochman and Tickle presented "Interactions of the LGBTQ+ Community with TikTok" based on work conducted as part of Kochman's St. Mary's Project. To provide a better understanding of LGBTQ+ individuals' experiences on TikTok, researchers posted a TikTok video asking viewers to recall their experiences on TikTok. Responses were coded into sub-domains of four broad categories: educational attainment, connection with others, TikTok specific themes and internal shifts. Findings suggested the most prominent attributes of TikTok were gaining access to other people who share and validate queer identities, expanding knowledge about the LGBTQ+ community and hearing personal experiences. Kochman is nannying while taking time to figure out next steps and explore employment opportunities.
Sonnenberg and Tickle presented "Just Not Sure Yet: Locomotors, Assessors & Dealing with Uncertainty" based on work conducted as part of Sonnenberg's St. Mary's Project. Undergraduate students (n=149) completed an online study to examine whether Crowe and Higgins' (1997) regulatory modes moderated the negative relationship between uncertainty and happiness. Although none of the moderation analyses were significant, there was evidence to show the links between assessment ("do it right"), uncertainty and unhappiness, and the opposite: locomotion ("just do it"), less uncertainty and happiness. Drew is pursuing a MA in industrial/organizational Psychology at Towson University part-time. He is currently working at SMCM as a lab manager supported by Professor Freedman's National Science Foundation grant and as a department assistant for the Department of Psychology.  
Drusano and Freedman presented "Using Continuum Interventions for Psychotic Symptom Stigma Reduction" based on work conducted as part of Drusano's St. Mary's Project. Undergraduate students participated in an online study (n=83) measuring the effect of a novel continuum intervention on stigmatized beliefs about individuals with psychotic symptoms. Additionally, the study measured correlations between stigmatized beliefs and social rejection. Results suggested that there were no significant differences between video and vignette interventions on stigmatized beliefs. However, there was a negative correlation between continuum beliefs and social rejection likelihood. Drusano is pursuing a MA in psychology at Towson University.