January 04, 2023
By Chuck Steenburgh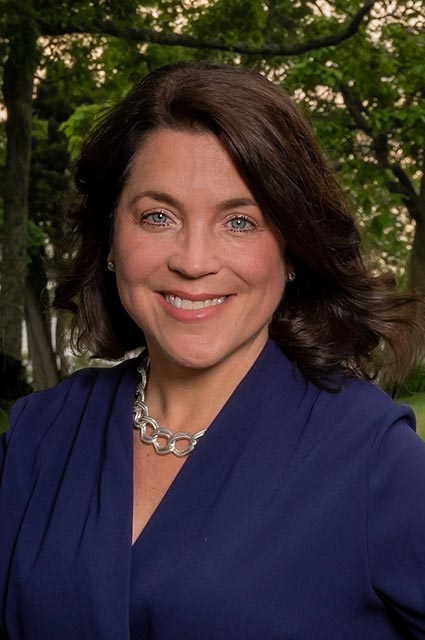 St. Mary's College of Maryland President Tuajuanda C. Jordan has appointed Katherine L. Gantz as vice president for academic affairs and dean of faculty, effective January 9, 2023. The leadership position reports directly to the president.
"After a thorough and vigorous national search that produced a group of outstanding candidates, Dr. Katie Gantz emerged as the clear choice for this crucial role," said President Jordan. "She possesses the vision, breadth of experience, and drive needed to continue the advances in academics at the National Public Honors College."
"I'm tremendously honored to take on this leadership position at the College, and to continue working with the exceptional faculty and staff who deliver an unparalleled educational experience for our students," said Gantz. 
Gantz has had a leading role in academic administration at St. Mary's College for the past six years. In 2016 she was appointed interim associate dean of faculty, an appointment which became permanent in 2017; Gantz held this role until 2021. She was appointed interim dean of faculty in 2021 and interim provost and dean of faculty in 2022.
In her most recent role as interim provost and dean of faculty, she has overseen academic policy and strategic planning, curriculum, and all aspects of administration within academic affairs. During this period, her responsibilities included implementing a new academic leadership structure, a new class scheduling matrix, and the introduction of new academic majors. 
A native of Columbus, Ohio, Gantz has had a distinguished career in academia for nearly 25 years, the last 17 of which have been at St. Mary's College. After receiving her bachelor's degree from Wittenberg University, Gantz completed her master's degree and PhD in French at the University of Michigan. After four years in a tenure track position at Valparaiso University, she was appointed an assistant professor of French at St. Mary's College in the fall of 2005.
While at St. Mary's College, she taught within the Department of International Languages and Cultures, receiving tenure and promotion to associate professor in 2010, serving a term as department chair in 2013, and earning promotion to professor in 2017. 
Gantz's many interdisciplinary publications include articles, book chapters, and reviews of works on French literature and American culture as well as publications on higher education administration topics. She has been a regular presenter at regional and national workshops and conferences and is the recipient of numerous research and faculty development grants. Her awards include the Outstanding Mentor Award from Valparaiso University and the Homer L. Dodge Award for Excellence in Teaching by Junior Faculty from St. Mary's College.