May 13, 2019
By Michael Bruckler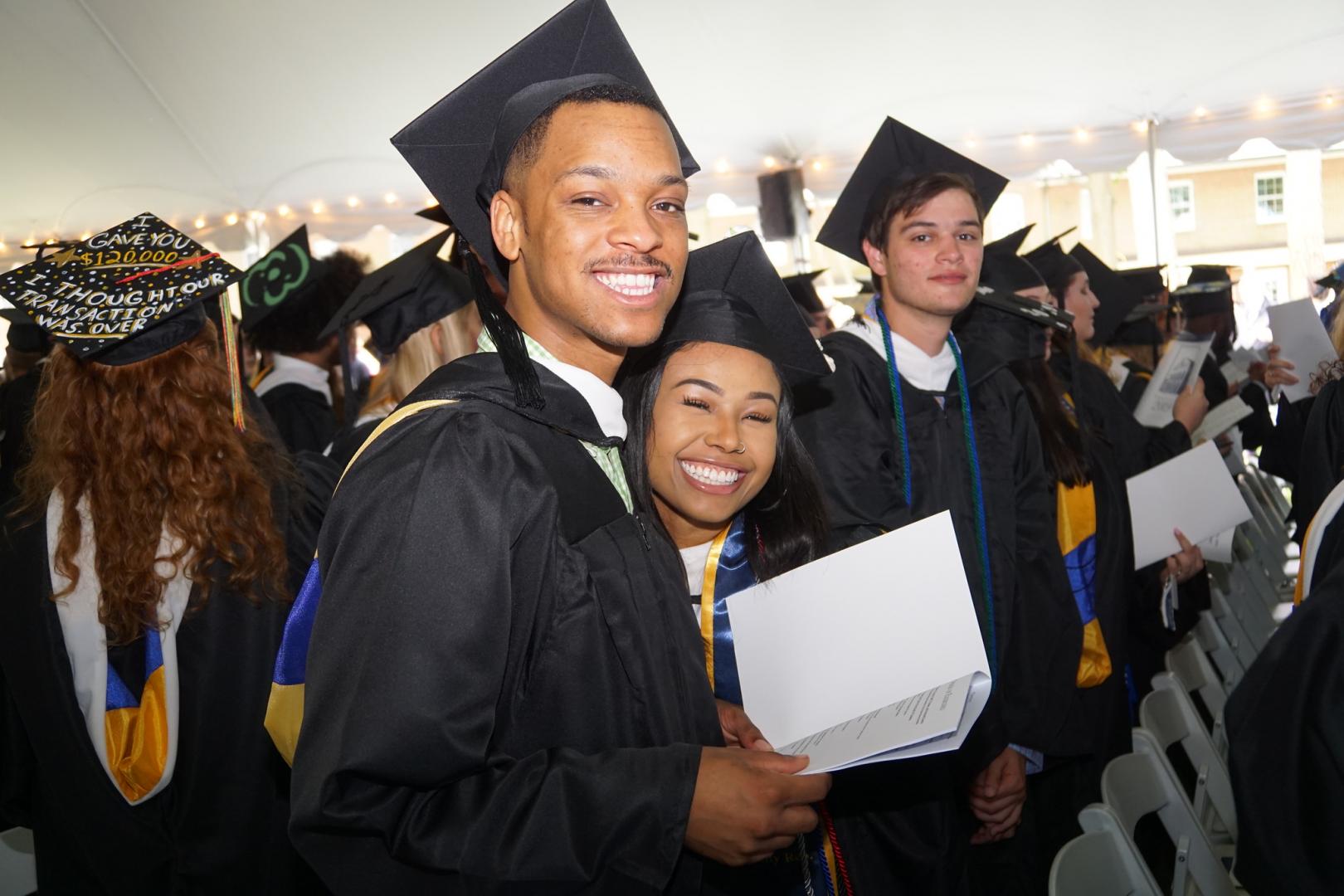 St. Mary's College of Maryland, the National Public Honors Colleges, graduated 403 students with Bachelor of Arts, Bachelor of Science, and Master of Arts in Teaching degrees on Saturday, May 11, outdoors on the campus' Townhouse Green.
The commencement address was delivered by Erin Ryan, host of Crooked Media's "Hysteria" podcast, a writer for "It's Always Sunny in Philadelphia," and a senior editor at The Daily Beast. Ryan's written work has appeared in several publications including The New York Times, Playboy, Runner's World, and Jezebel. In 2018, her work for The Daily Beast won a New York Press Club award for humor writing. Ryan has co-hosted the podcasts "Pod Save America" and "Lovett or Leave It," in addition to appearing on "Keep It!" She has appeared as a guest speaker on HLN, CNN, MSNBC, NBC, and the BBC. Ryan has also written for VH1's "Best Week Ever" and a forthcoming comedy project from Apple TV. A native of Frederic, Wisconsin, and a graduate of the University of Notre Dame, she currently resides in Los Angeles. 
Also receiving honorary degrees were Sir Rodney Williams, Governor General of Antigua and Barbuda, and Clyde "Bernie" Bernard Fowler Jr., president of Bernie Fowler Homes/C.B. Bernie Fowler Inc. and president and founder of Farming 4 Hunger, a non-profit organization which supports farming activities that provide food for the needy.
His Excellency, Sir Rodney Williams, was appointed as Governor General of Antigua and Barbuda in August 2014 by HRM Queen Elizabeth II as a Knight Grand Cross of St. Michael and St. George and as a Knight of the Most Venerable Order of the Hospital of St. John of Jerusalem. A physician by training, Sir Rodney Williams received his MBBS degree in medicine and surgery from the University of the West Indies in 1976. He entered Parliament in 1984 as Representative for the Constituency of St. Paul. He served several successive ministerial appointments, including those in economic development; industry and tourism; education, sports, youth, and community development; as well as education, culture and technology. As Governor General, His Excellency has made significant contributions to improve the quality of life for citizens of Antigua and Barbuda. He has led efforts to diversify economic drivers and improve healthcare by providing, for over 40 years, free medical clinics in the capital city of St. Paul. His initiatives to promote tourism by developing cultural exchange and educational programming have fostered partnerships with St. Mary's College of Maryland and Morgan State University, as well as other entities around the world.
Clyde Bernard "Bernie" Fowler Jr. is a lifelong resident of Calvert County, Maryland. He owns a home construction business and in 2012 he founded Farming 4 Hunger Inc. (F4H), a nonprofit that grows fresh produce to combat hunger. The produce, 1.2 million pounds per year, grown at Serenity Farm in Hughesville, is donated to needy families and individuals through unique partnerships with numerous local farms, churches, businesses and schools, the Maryland Food Bank, the Department of Corrections, and a network of thousands of community volunteers. A former police officer, Fowler has mentored more than 70 felons from the Department of Corrections, who are part of a work release program with F4H. In 2017, he started the grant-funded "2nd Chances" Initiative, which provides support through life and job skills to recovering substance abusers and justice-involved individuals. Fowler and his F4H organization have been the recipient of numerous awards, notably the 2016 Governor's Citation for Uplifting the Community, the 2014 Maryland Food Bank Grower of the Year, and the 2015 Bateman Eagle Award for support of local alcohol and drug abuse prevention efforts, as well as the 2013 William Donald Schaefer helping people award.
This year, two students earned the honor of serving as valedictorians. Samantha Schoenecker delivered the valedictory address. Schoenecker is a biology major with a minor in neuroscience.  She is a member of Phi Beta Kappa and Omicron Delta Kappa; she was also inducted into the biology honor society Tri-Beta and the honor society for neuroscience Nu Rho Psi.  She is the captain of the swim team, and she has been a student ambassador for the Office of Admissions and a teaching assistant in the biology department.  Her academic achievements have led to numerous awards.   
The second valedictorian was Megan Root. Root is a history major with minors in Africa and African diaspora studies and educational studies; she is a member of Phi Beta Kappa, and the history honor society Phi Alpha Theta, Omicron Delta Kappa.  She has won a number of awards for her academic performance at the College. She's also been a Writing and Speaking Center tutor, an Orientation Leader, a research assistant, a teaching assistant -- and she's taken on leadership roles in the organizations she's been a part of here at the College.  Megan is, as her SMP mentor explains, both "gifted and hardworking." 
At the conclusion of the ceremony, President Tuajuanda C. Jordan charged the Class of 2019 with the following: "You have done well here at St. Mary's College of Maryland, where you have studied and learned in the finest liberal arts tradition. As you 'sail through this to that' in moving beyond the banks of this river into the world, my expectation is that you will take your passions, your skills, and the knowledge you have gained at this place to create a more just and humane society for all."