Wed, Mar 17 2021, 4:45pm - Thu, Mar 18 2021, 9:15pm
Add to Calendar
2021-03-17 16:45:00
2021-03-18 21:15:00
WGSX Colloquium 2021 Speaker Series Activism Now: Building Feminist Futures
About the Series The first annual Women Studies colloquium was held March 22-24, 2000. With the support of the Alice McLellan Birney Women Studies Fund, the cross-disciplinary study area in Women, Gender, & Sexuality presents a colloquium each spring in connection with Women's History Month.  Since 2000, the WGSX Colloquium has become an established tradition at St. Mary's College.  This very successful annual program has regularly drawn large audiences to events that have offered powerful interdisciplinary combinations of scholarly discourse and artistic expression (including film screenings, theatrical performances, and exhibitions) to discuss a topic critical to the lives of women. This year's theme- Activism Now:  Building Feminist Futures The 2021 WGSX Colloquium focuses on emerging leadership and activist priorities in the contemporary movement. The new decade offers new possibilities while also facing familiar challenges. The speakers will focus on the unfolding strategies and goals of a new generation of feminist activists and scholars working in the movement today. How do feminists build coalitions that encompass diverse points of view, create sustainable local and global networks, and bridge generational divides in the effort to move forward into the feminist future? SCHEDULE Wednesday, March 17, 2021, Zoom Meetings 4:45 p.m., Soraya Chemaly, Executive Director of The Representation Project, "Why Feminist Storytelling is Activist and Transformative"  https://inside.smcm.edu/events/2021-03-17/wgsx-colloquium-2021-speaker-series-activism-now-building-feminist-futures-0   8:00 p.m., Noorjahan Akbar, Free Women Writers, "Global Solidarity to Dismantle Global Patriarchy"  https://inside.smcm.edu/events/2021-03-17/wgsx-colloquium-2021-speaker-series-activism-now-building-feminist-futures-1   Thursday, March 18, 2021, Zoom Meetings 4:15 p.m., Maria Manuela Goyanes, Artistic Director of Woolly Mammoth Theater, Washington, DC, "How Anti-Racism shows up in my Feminism"  https://inside.smcm.edu/events/2021-03-18/wgsx-colloquium-2021-speaker-series-activism-now-building-feminist-futures   8:00 p.m., Student Talkback, Faculty Facilitators: Argelia González-Hurtado and Jessye McDowell https://inside.smcm.edu/events/2021-03-18/wgsx-colloquium-2021-speaker-series-activism-now-building-feminist-futures-0      
WGSX Program and Lecture and Fine Arts Committee
Betűl Başaran
America/New_York
public
This year's event will take place on ZOOM
Intended Audience
Faculty
Staff
Students
General public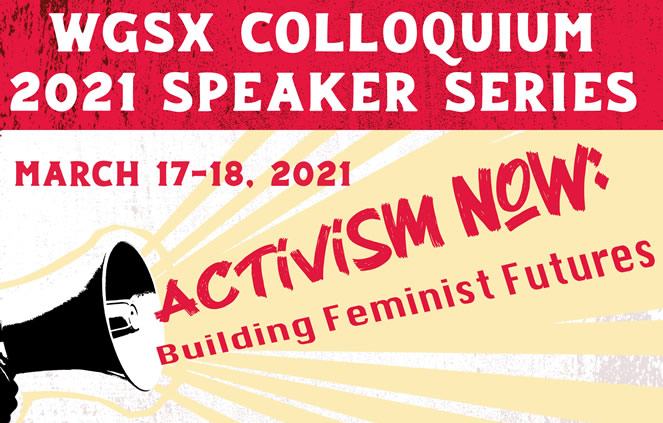 About the Series
The first annual Women Studies colloquium was held March 22-24, 2000. With the support of the Alice McLellan Birney Women Studies Fund, the cross-disciplinary study area in Women, Gender, & Sexuality presents a colloquium each spring in connection with Women's History Month.  Since 2000, the WGSX Colloquium has become an established tradition at St. Mary's College.  This very successful annual program has regularly drawn large audiences to events that have offered powerful interdisciplinary combinations of scholarly discourse and artistic expression (including film screenings, theatrical performances, and exhibitions) to discuss a topic critical to the lives of women.
This year's theme- Activism Now:  Building Feminist Futures
The 2021 WGSX Colloquium focuses on emerging leadership and activist priorities in the contemporary movement. The new decade offers new possibilities while also facing familiar challenges. The speakers will focus on the unfolding strategies and goals of a new generation of feminist activists and scholars working in the movement today. How do feminists build coalitions that encompass diverse points of view, create sustainable local and global networks, and bridge generational divides in the effort to move forward into the feminist future?
SCHEDULE
Wednesday, March 17, 2021, Zoom Meetings
4:45 p.m., Soraya Chemaly, Executive Director of The Representation Project, "Why Feminist Storytelling is Activist and Transformative" 
https://inside.smcm.edu/events/2021-03-17/wgsx-colloquium-2021-speaker-series-activism-now-building-feminist-futures-0
8:00 p.m., Noorjahan Akbar, Free Women Writers, "Global Solidarity to Dismantle Global Patriarchy" 
https://inside.smcm.edu/events/2021-03-17/wgsx-colloquium-2021-speaker-series-activism-now-building-feminist-futures-1
Thursday, March 18, 2021, Zoom Meetings
4:15 p.m., Maria Manuela Goyanes, Artistic Director of Woolly Mammoth Theater, Washington, DC, "How Anti-Racism shows up in my Feminism" 
https://inside.smcm.edu/events/2021-03-18/wgsx-colloquium-2021-speaker-series-activism-now-building-feminist-futures
8:00 p.m., Student Talkback, Faculty Facilitators: Argelia González-Hurtado and Jessye McDowell
https://inside.smcm.edu/events/2021-03-18/wgsx-colloquium-2021-speaker-series-activism-now-building-feminist-futures-0
Event Sponsor(s)
WGSX Program and Lecture and Fine Arts Committee
Betűl Başaran
bbasaran@smcm.edu
301.904.6822
Event Group
Women, Gender and Sexuality Studies