Use the links below to jump to different sections:
InsideSMCM FAQs
Q. Do I have to login to InsideSMCM?
A. The events and news listed on InsideSMCM are for anyone to view, but to add your announcement, event, or news story, you need to log in. We do this to prevent SPAM and allow announcements to be restricted by audience.
Q. How do we login to InsideSMCM?   
A. When you add content to the newsletter, you will be directed to a login page. Click on the red G+ "Connect with Google" button and login with your smcm.edu username and password. If you are already logged into your SMCM GMail account, you may not be prompted to login again. You will simply be redirected to the site logged in with your account.

Q: HELP! Every time I click on an announcement on mobile it makes me login again!
A. This behavior can be mitigated by using the Gmail app and Chrome app on the iphone (these are the defaults on android phones). Because our login is through Google, we've noticed users can stay logged in after clicking multiple announcements if Chrome is the browser their email opens in. How to set Chrome as your default browser on iOS 
Q. How often will the newsletters be sent out?
A. Twice daily at 7 a.m. and 2 p.m.
Q. What announcements are shown in each newsletter and what order are they displayed?
A. Each newsletter shows all the announcements posted in the past 24 hours. The announcements are displayed in the order they are received with the most recently posted announcements at the top and the older announcements toward the bottom.
Q. How is the promo in the middle of the newsletter decided?
A. The promo in the middle of InsideSMCM is determined by the Office of Communications.
Q. What news items are shown in the newsletter?
A. The latest three news items from our newsroom on the www.smcm.edu homepage are shown on InsideSMCM.
Q. Can I unsubscribe from this email communication?
A. Because this is the College's official communication you cannot unsubscribe. We would love to hear feedback from you concerning this! Please feel free to send an email to www.smcm.edu with your questions/feedback.
Q. Why was this developed?
A. Our Institutional Advancement (IA) unit sought to create a robust, internal communications platform. The College's history of "all-emails" has become inefficient, and is not federally compliant. We are now offering an efficient, compliant format that shares a host of College-related information in a one-stop shop format. With input from students, faculty and staff, and information gleaned from dozens of other college internal systems, we've built a custom solution that can grow and change with our needs.
Q. How was this built?
A. InsideSMCM is powered by the Drupal Content Management System. It was built by the IA Web Services team led by Jeannette Modic. Students, faculty and staff, along with the Executive Council, tested and provided input.
Event FAQs
Q: When should an event be an event and when should it be an announcement?
A: Generally an event is something that people can attend. An announcement can be used to advertise an event in advance.
1. It is suggested that the event be created first. This can be done far in advance and then frequently promoted with an announcement. 
2. The next step is to attain the URL of the event, create an announcement for it, and place the event URL in the announcement. 
3. The event can be created weeks beforehand and advertised in weekly intervals, then daily intervals until the day of the event.
Q. How can I add an event on my personal calendar for later?
 
A. One way to save events for later is to Add it to your Calendar. When you click on an event, there is a blue button to add the event to your calendar. This works great with Google Calendar, which I know many people use, but you can also use it with Outlook or Apple Calendars as well. Here are the steps I'd take if I wanted to go to Evening Yoga tonight:
Click on that event from my email, InsideSMCM webpage or Events Calendar
Click the Add to Calendar button
Select Google Calendar
A new tab opens up for me to save this event to my Google Calendar. 
When it's almost Yoga time, I'll get a reminder pop up and go!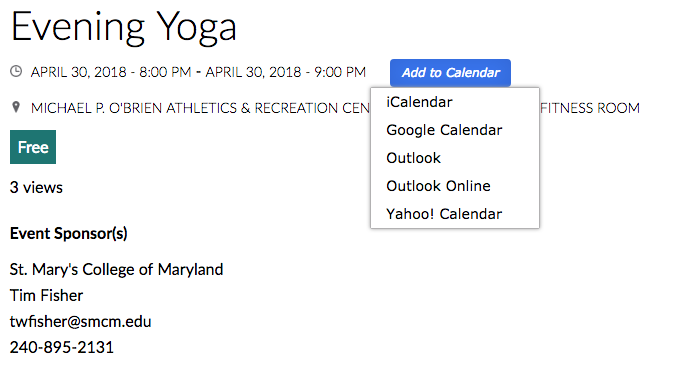 Q. Where is my event?
A. After your event is submitted, it goes into a queue for editorial review, where spelling and punctuation are reviewed. Alternative text is added to images. Once published, your event can be found on the events calendar, until it is past.
Q. Can I post a non-college event?
A. This calendar is for St. Mary's College events only with the exception of Historic St. Mary's City events.
Q. How long will it take for events to be approved?
A. Events with speakers should be submitted 45 days in advance as per the speaker guidelines found here. Events without speakers should allow 2-3 business days for editorial review before they are published.
Q. Do events expire?
A. The calendar only shows events happening in the present. If your event has past, it will no longer show on the calendar, but will still be accessible and discoverable by search.
Q. What does the "Add to Calendar" button do?
A. When you see an event that you want to add to your personal calendar, click the "Add to Calendar" button. This provides options for adding the event to your personal iCalendar, Google Calendar, Outlook Calendar, or Yahoo Calendar.
Q. Can I delete/edit my event?
A. Yes, you may edit or delete your event. If you edit your event, it will proceed to editorial review where spelling and punctuation are reviewed. Alternative text is added to images.     
Q. Will this system reserve a room for my event?
A. No, there is no connection between InsideSMCM and the Event Management System  (EMS). You should have your room and media secured in EMS before adding your event to InsideSMCM.
Can we separate events by topic/tag?
A. You can view events based on their category by selecting the category from the dropdown on http://inside.smcm.edu/events
Q. Will this replace old events submission form?
A. Yes, this will replace our current event submission system.
Announcement FAQs
Q. Can I add hyperlinks to announcements?
A. Yes.
Can I add an announcement to a student as Staff?
A. Yes.
Q. Can Staff message faculty?
A. Yes.
Q. When will my announcement be approved?
A. Faculty and staff announcements are automatically posted as written; there is no approval process. Student announcements are approved by Student Activities staff within 1-2 business days.
Q. As a student, can I send my announcement to faculty and staff?
A. Students who want to send an announcement to faculty and staff should contact their advisor. Your adviser can add your announcement for faculty and staff to InsideSMCM.  
Q. Do announcements expire?
A. We know most announcements are for a short period of time, so we've added a field for you to indicate when an announcement should expire.
Q. What announcements can I see?
A. Your role will be tied to your Google group that is assigned when you are hired.  For example, if you classify as both staff and faculty then you will see staff and faculty announcements.
Q. Is there a character limit on the announcement main description?
A. No, but the summary section WILL have a character limit of 300 characters.
Q. Can I upload an image with my announcement?
A. No, we want announcements to be accessible to all audiences. Images are not accessible by default. Federal law requires images to have a text alternative that properly describes what is happening in the image.
Comment System FAQs
Q. How can staff and faculty view and create comments?
A. Staff and faculty members can create comments on the bottom of announcements. All comments require an smcm.edu Google login to view and create.
Q. If a comment is submitted will there be an email notification to the content originator?
A. Yes, the author of that announcement will get an email notification of comments on their announcement.
Q. Will comments show up on the daily emails?
A. No. Comments only display on the announcement.
News Post FAQs
Q. What happens when I submit a news item?
A. When a news item is added, the content is forwarded to the Office of Communications, who will review the post, and if deemed appropriate for the College newsroom, will publish the news item. The Office of Communications may edit the item to add additional information and ensure the item follows the AP Stylebook. They will also check images for copyright and disability compliance.  
Q. Can we also share accomplishments or "good news" items we come across?
A. Yes, you can add stories and accomplishments from SMCM staff, faculty, and students (for example, you may want to tout an accomplishment of a graduate or of a colleague). We have a variety of  communications platforms, including social media, external newsletters, alumni communiques, etc. Not every item collected will be published. Rather, we may use some for promotional purposes on social media, web pages or print instead of in our main newsroom. We do encourage your participation as this is a great way for us to better know and gather the day-to-day successes we have come to expect at SMCM.
Q. How can I provide feedback? What if I have a question?
A. We'd love your feedback! Please send an email to web@smcm.edu with any feedback/questions you have.
Newsletter and Email FAQs