January 18, 2023
By Lee Capristo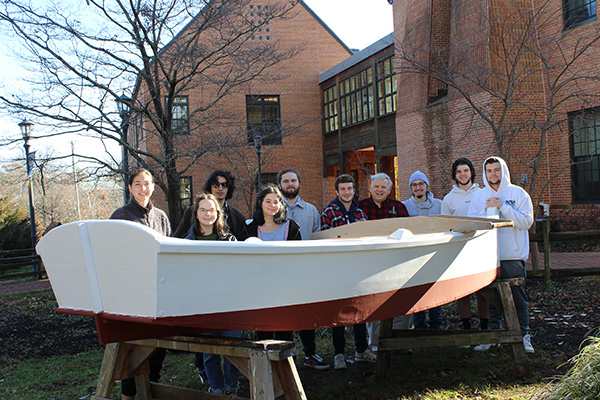 This past fall, students in the Museum Studies 390 class taught by John Cook, adjunct instructor of museum studies, studied Chesapeake Bay watercraft and built a 14-foot wooden skiff as part of the coursework. The skiff was donated to Historic Sotterley in Hollywood, Maryland, to be a piece of its "Life on the Patuxent River" display.
A historic craft and predecessor of the iconic Chesapeake Bay skipjack, the students built the skiff using some of the same methods used by 17th-century builders. They created a lines drawing by taking the lines off of an existing boat. From the lines drawing, they built a table of offsets (a series of measurements taken at intersecting points of the line drawing). The table of offsets, used with the line drawing, served as the basis from which to "loft" a model of the boat at a small scale to inform the build of a full-scale version. Lofting is also used to inform a computer modeling program to make a 3D virtual model, or document information for the historical record.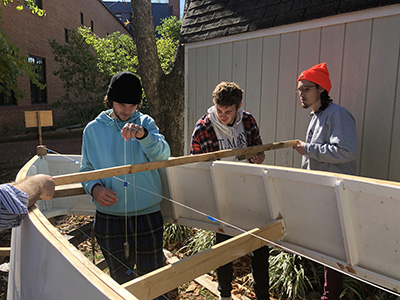 MacCallum Borghardt '24 tells his friends "you have to check out this class if you have any interest in ship building or museum studies." An anthropology major and museum studies minor, he described the class as "a rare gem." Cole Doherty '22, a computer science major, said the class was his favorite of the semester.
Two students had taken another museum studies course with Cook on post and beam construction in medieval England and sought out this class for its similar hands-on approach. Chris Lawson '24 is an anthropology major with a minor in museum studies and interns as a crewmate on the Maryland Dove, a recreated 17th-century vessel at Historic St. Mary's City. He thrives on the experiential learning afforded by Cook's approach. Alex Abbott '22, a history major, opted for Cook's classes as "fun electives" during his College experience.
On the final day of class, the students christened the new boat as is customary, before loading it up for delivery to Historic Sotterley.
See more photos of the skiff through the building process here.