May 05, 2022
By Lee Capristo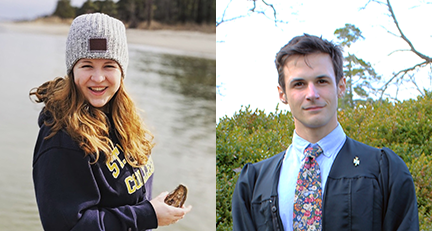 St. Mary's College of Maryland graduating seniors Caitlin Hall and Samuel Johnson are invited speakers to Jefferson Patterson Park's Speaker Series on May 19 at 7 p.m. in St. Leonard, Md. Hall and Johnson will each speak about their original research done as part of their senior capstone "St. Mary's" project.
Hall's research focuses on the Piscataway during 1600-1700 C.E. She says she chose that period "because it encompasses a brief moment of time before the English invaded and [it] allowed me to look at change over time." An anthropology and history double major with a minor in museum studies, Hall begins work as an assistant archaeologist under Professor Julia King at St. Mary's College after graduation. She plans to pursue a dual master's degree in applied anthropology and historic preservation.
Johnson's research includes a full translation and in-depth analysis of Elizabethan shipwright Matthew Baker's manuscript on ancient English shipbuilding. A history major and Phi Beta Kappa scholar, Johnson will spend a gap year working on historic wooden sailing ships before pursuing graduate studies in the United Kingdom.