September 22, 2022
By Lee Capristo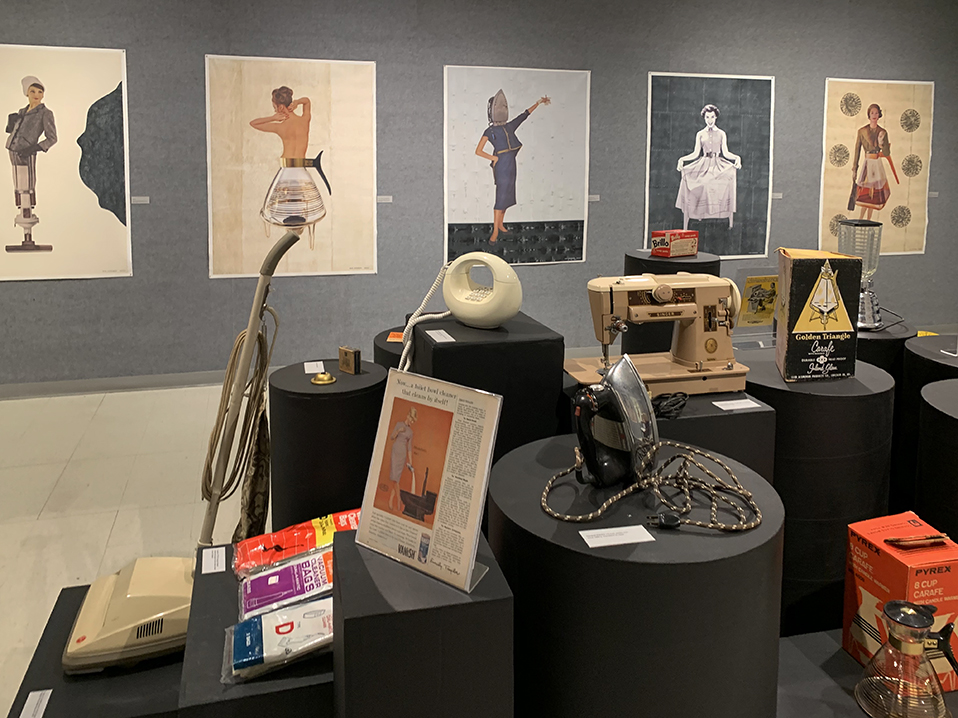 A new solo exhibition by Professor of Art Sue Johnson has opened at the Cecelia Coker Bell Gallery of Coker University in Hartsville, South Carolina and runs through October 14. The exhibition, titled "Showroom: Hall of Portraits from The History of Machines" includes 17 mixed media paintings and the historical domestic objects that correspond to the surreal images of hybrid women. Johnson was one of five U.S. artists whose work was selected in a highly competitive process. She will deliver a public lecture on September 27 at Coker University.
From Sue Johnson's artist's statement:
"I look at the material culture of the past as a way to understand the now." Hall of Portraits from The History of Machines constructs a disquieting satire that proposes an alternate pictorial history in which two objects of desire become one — the household convenience object and the emergent female form. In mid-20th century commercial culture, the New Woman began to be idealized as sharing attributes with objects of domestic convenience, efficiency, and planned obsolescence. Mining the archive from print advertising to manufactured objects that I photograph, labor-saving domestic machines merge with the body or vice versa. The resulting digitally stitched together hybrid women seem familiar yet at the same time we know they are actually a highly fictional, patriarchal fantasy. To emphasize this artificiality, I surround them with hand-painted color-fields that are squeegeed like cleaning a glass windowpane, imprinted with patterns made by fabrics and disposable household conveniences, or by dragging domestic tools through the wet paint. In exhibitions, historical consumer products rupture, complicate and authenticate the fictional two-dimensional works. Carried to the point of surrealism, these mixed media works showcase a taxonomy of stereotypes, archetypes and tropes intended to mark the boundaries of the female domain in the last century which continues – persists, into contemporary times.