April 05, 2022
By Angela Draheim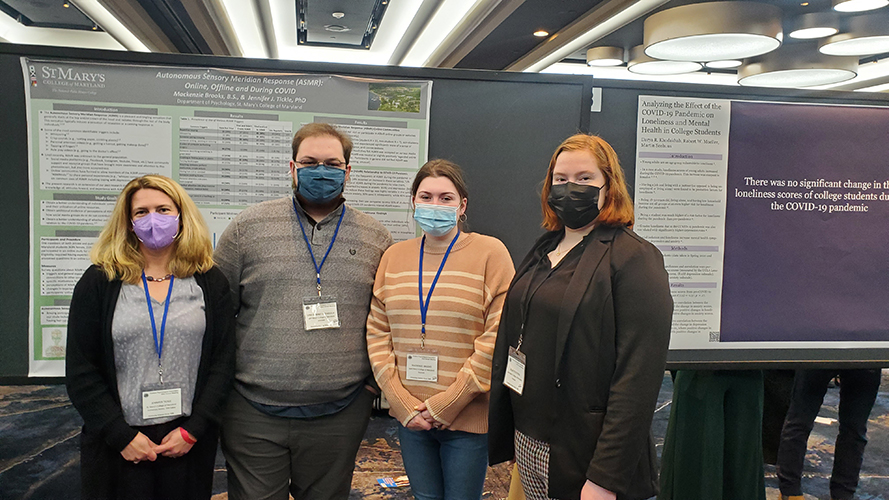 Student Julia Fitzpatrick '23, alumna Mackenzie Brooks '22, and associate professor of psychology Jennifer Tickle presented posters based on directed research projects at the Annual Meeting of the Eastern Psychological Association in early-March 2022. Alumnus Lynx Gabinet-Bethoulle '22 also attended the conference which was held in New York City.
Fitzpatrick and Tickle presented "The Effects of Eye Contact on Self Disclosure and Trust." Previous research has examined the benefits of eye contact in psychotherapy, but the effects of eye contact in an online environment on self-disclosure and trust have not been explored. This experiment examined trust and self-disclosure after being exposed to either no, moderate, or high levels of eye contact in a structured online interaction. There was not a significant effect of eye contact on trust or participants' ratings of self-disclosure, but ratings of comfort with the experimenter and experimenter ratings of participant self-disclosure were higher with more eye contact.
Brooks and Tickle presented "Autonomous Sensory Meridian Response (ASMR): Online, Offline, and During COVID." Autonomous sensory meridian response (ASMR) is a pleasant, tingling sensation that generally starts from the top of the head and radiates through the rest of the body inducing a relaxation response. This present research used an online survey to examine information about the experience of ASMR, the use of online communities to develop a sense of community for those who experience ASMR, and whether the pandemic affected ASMR use. Brooks, who double-majored in psychology and an independent student-designed crime, society, and behavior, will pursue a PhD in criminology at the University of Delaware starting in fall 2022.