February 25, 2022
By Gretchen Phillips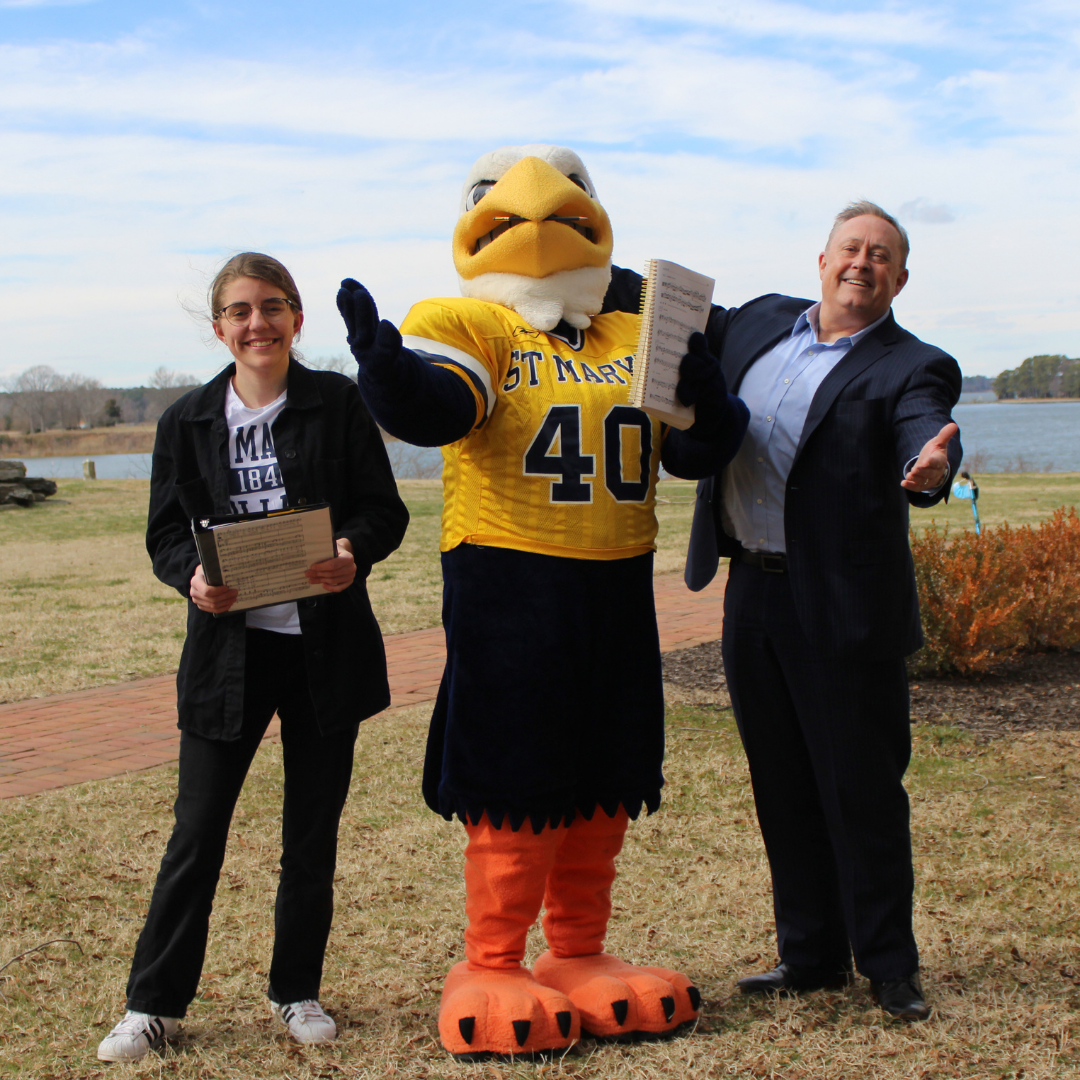 Drawing the lyrics for "Fly High Mighty Seahawks" from her positive interactions while attending St. Mary's College of Maryland, Mary Purtilo '23 will live in St. Mary's College history as having composed the College's official fight song.
"A lot of the lyrics in my song came from words of encouragement I have received since I have been a student at SMCM. It's nice to be able to give them back," Purtilo said.
Premiered for the campus community Friday, Feb. 25, by St. Mary's College President Tuajuanda C. Jordan in her State of the College address, the new fight song was one of 13 entries to the College's fight song competition launched in September 2021. The contest, spearheaded by Vice President of Enrollment Management David Hautanen Jr, was open to students, faculty, staff, trustees and alumni.
Hautanen explained that a committee consisting of a diverse group of College administration, students and staff reviewed the contest entries and the finalist selections were produced by Robert Hammerton, a music arranger.  Those pieces were released to the student body for voting in late January and Purtilo's piece was adopted Feb. 3.
"College fight songs are traditions that span generations of graduates. St. Mary's College needed a fight song for our students, faculty, staff, alumni and friends to convey their support, pride and enthusiasm for Seahawk athletics and our entire community," Hautanen said. "'Fly High Mighty Seahawks' by Mary Purtilo had all the qualities of a fight song that would endure."
Purtilo credited two professors, David Froom and Crystal Oliver, for the confidence to participate, having previously studied composition and lyrics in their respective classes.
"Before I worked with them, I doubt I would have dreamed of trying to write a song for other people to sing," she said. Purtilo also acknowledged support from her mother, who helped provide composition software as she wanted to provide a score when submitting her work.
"We are so excited to embrace the new Seahawk fight song as a way to bring our entire campus community together with a likeness that can travel from the courts to the fields and into the classroom and beyond," said Director of Athletics and Recreation Crystal Gibson. "It highlights the uniqueness of the College while celebrating our differences."
Purtilo studied other fight songs while researching her project and her composition has commonalities with others, "but it is still unique, just like our College among other colleges," she said.
To create the lyrics for her song, Purtilo drew from inspiration on campus. In the line "waves and field and floor," she aimed to include many sports, but emphasized that the song is intended for all Seahawks. "There are so many students that fight the good fight every single day in so many ways, and this song is also for all of them," she said. "I think everybody needs a fight song sometimes."
"
St. Mary's College of Maryland Fight Song Written by Mary Purtilo '23 and performed by PING vocal ensemble under the direction of Professor of Music Larry Vote. Video footage provided by St. Mary's College of Maryland Athletics and social media intern Jada Johnson '22.
Fly High Mighty Seahawks
Fly high, mighty Seahawks
Triumphant on the waves and field and floor
Fly high, mighty Seahawks 
We're fighting, winning, watch our Seahawks soar (Fly high!) 
And we will root, root for our Seahawks
We'll stand and raise our voices to the sky!
For S. M. C. M., we'll shout it out a-gain  Fly, Seahawks fly 
S. M. C. M.
S. M. C. M.
Goooo Seahawks!
Fly high, mighty Seahawks
Triumphant on the waves and field and floor
Fly high, mighty Seahawks
We're fighting, winning, watch our Seahawks soar (Fly high!) 
And we will root, root for our Seahawks
We'll stand and raise our voices to the sky 
For S. M. C. M., we'll shout it out a-gain
Fly, Seahawks fly