February 13, 2019
By Adrienne Dozier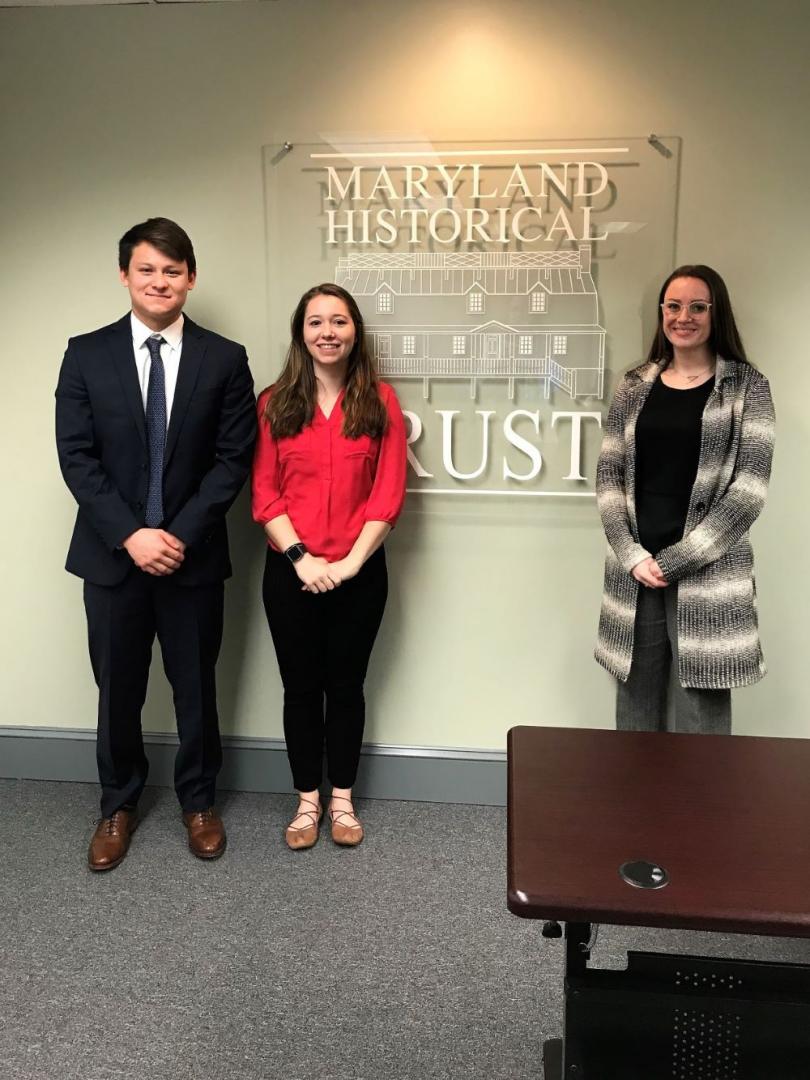 Environmental Studies Students from St. Mary's College Compete in Maryland's Sustainable Growth Challenge
On Tuesday, February 12, Kaitlin Aaby '18, Ava Jensan '20, and Jacob Rosenzweig-stein '20 participated in the Fifth Annual Sustainable Growth Challenge, a collegiate competition hosted by the Maryland Sustainable Growth Commission to engage students in planning and sustainability. The Challenge took place at The Maryland Historical Trust in Crownsville, Maryland. The team of students from assistant professor of environmental studies Barry Muchnick's Applied Sustainability Practicum (ENST390) presented a portfolio of cross-disciplinary, collaborative student projects to an expert panel of sustainability and planning practitioners. 
Established by the Maryland General Assembly in 2010, the Sustainable Growth Commission makes recommendations on growth and development issues in the region and celebrates smart growth achievements with an annual awards program. Each year the commission hosts a Sustainable Growth Challenge to engage Maryland college students in developing creative solutions to sustainable growth issues while also providing them with a career-building, real-world learning experience. The Sustainable Growth Challenge is co-managed by the University of Maryland, National Center for Research and Education, and the Maryland Department of Natural Resources.
The St. Mary's College submission to the competition consisted of an interactive, web-based overview of three, major student group sustainability projects representing the efforts of 132 students over six semesters. Featured efforts included:
Taken together, these projects span several years and a range of sustainability innovations in waste diversion, green buildings, interdisciplinary stewardship education, landscape management, recreation, resource conservation, ecosystem services, green transportation, sustainability governance, and sustainable food systems at the Kate Chandler Campus Community Farm.
The winners of the Sustainable Growth Challenge will not be announced for several weeks. Those selected will receive recognition at a statewide event or in a statewide publication. In addition, winning students and faculty will be invited to speak and present their projects at a Maryland Planning Commissioners Association, Maryland Municipal League, or American Planning Association conference.
"Participating in this event was a great opportunity for our students and our community to learn more about each other," Professor Muchnick said. "The Applied Sustainability Practicum is just one of the many environmental studies classes where our students engage in meaningful, real-world projects."
Aaby, who is the school's Sustainability Fellow and current teaching assistant for Muchnick's Applied Sustainability Practicum, concurred: "I'm glad we got to share how St. Mary's College students are involved with the community and local sustainability efforts."
Muchnick continued, "St. Mary's College students never cease to amaze me. The work they do in classes, on campus, and in the community reinforces the importance and value of applied, liberal arts learning in addressing Maryland's social, economic, and environmental challenges."
For more information about the Applied Sustainability Practicum, contact brmuchnick@smcm.edu. To learn more about the Office of Sustainability, contact kaaaby@smcm.edu.