Fri, Dec 9 2022, 7 - 8:30pm
Add to Calendar
2022-12-08 07:11:27
2022-12-08 07:11:27
New York Voices Holiday Concert-December 9
Purchase Tickets The incomparable New York Voices have crafted a festive seasonal concert that will be a fitting kick-off to the holiday season. This concert is certain to entertain audience members of all ages. New York Voices was born in the mid-1980s at upstate New York's Ithaca College. Peter Eldridge, an aspiring jazz pianist who came late to singing; Kim Nazarian, who dreamed of a life on Broadway; and Darmon Meader, a saxophonist and self-described "choral geek," came together in the school's vocal jazz ensemble. Director Dave Reilly included all three of them, as well as Caprice Fox, in an ensemble he'd been invited to bring on a tour of European jazz festivals. "It seemed to go over so well that Darmon and I decided to keep it going, try to make something happen professionally," Eldridge recalls. "Kim and Caprice were part of that original band, and we slowly but surely made the transition to New York City in 1988." There they met Sara Krieger, who became the fifth member of the band Reilly had named "New York Voices."
Nancy R. and Norton T. Dodge Performing Arts Center
America/New_York
public
$

Nancy R. and Norton T. Dodge Performing Arts Center
-
Main Auditorium
Intended Audience
Faculty
Staff
Students
Admitted Students
Parents of Admitted Students
Alumni
General public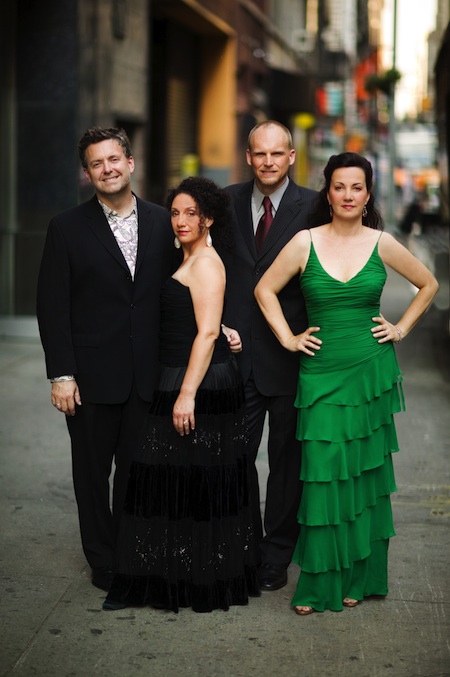 The incomparable New York Voices have crafted a festive seasonal concert that will be a fitting kick-off to the holiday season. This concert is certain to entertain audience members of all ages.
New York Voices was born in the mid-1980s at upstate New York's Ithaca College. Peter Eldridge, an aspiring jazz pianist who came late to singing; Kim Nazarian, who dreamed of a life on Broadway; and Darmon Meader, a saxophonist and self-described "choral geek," came together in the school's vocal jazz ensemble. Director Dave Reilly included all three of them, as well as Caprice Fox, in an ensemble he'd been invited to bring on a tour of European jazz festivals. "It seemed to go over so well that Darmon and I decided to keep it going, try to make something happen professionally," Eldridge recalls. "Kim and Caprice were part of that original band, and we slowly but surely made the transition to New York City in 1988." There they met Sara Krieger, who became the fifth member of the band Reilly had named "New York Voices."
Ticket Information
Tickets are $22/person and are available through Eventbrite. There is no reserved seating for this event. Seating is first-come, first-served. Doors open at 6:30 PM.
Event Group
Nancy R. and Norton T. Dodge Performing Arts Center
Recital/Concert