Professor of Art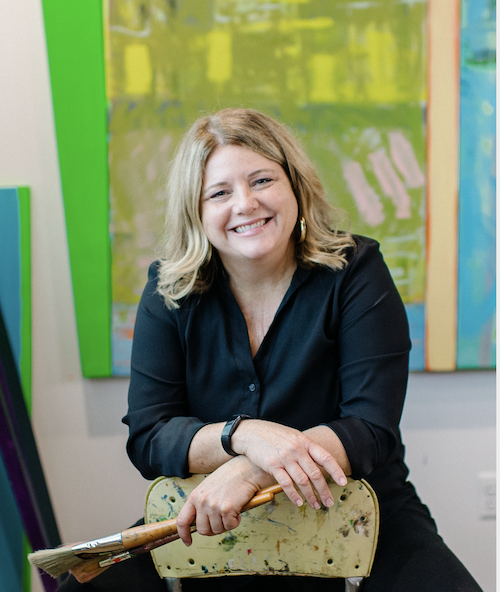 Biography
Carrie Patterson is a Professor of Art at St. Mary's College of Maryland. She earned a B.F.A in painting from James Madison University and an M.F.A in painting from The University of Pennsylvania. Additionally, she was a student resident at The New York Studio School. For twenty years, Patterson has created geometric objects that embody a poetic, physical translation of place. Early in her career, Patterson combined abstraction with observation using forms found in vernacular architecture such as billboards, signs, and barns as source material. Through a slow process of mining a site for information, she remembers specific places by measuring distance and observing light by drawing, filming, and photographing. By 2010, her method of constructing paintings, layering paint on canvas, stacking wood and paper, became primary to her creative process. She maintains her practice, often incorporating memories of observed landscapes into her constructions and isolating color events or single gestural marks. Her work has been exhibited widely across the country with solo shows in Philadelphia, New York, Virginia, Maryland, North Carolina, Florida, and Minnesota. She is the founder of thegesso.com, the art resource for creative teens and the founder of theyellowline.co, art curriculum for creative, imaginative, and expressive kids. She is author of  How to See, a lecture series available through The Great Courses, and recipient of the Homer L. Dodge Award for Outstanding Service at St. Mary's College of Maryland. In 2021, Patterson was awarded an Individual Artist Award from the Maryland State Arts Council. In 2020- 2023 She served as the Steven Muller Distinguished Professor of the Arts and chair of the Department of art at St. Mary's College of Maryland where she is a tenured Professor of Art. You can find her professional work @ http://www.carriepatterson.com/
In her arts training, career choices, and professional development, Carrie has developed a broad understanding of the academic art system and approaches the art world and creative fields from a comprehensive perspective. Carrie's guidance for all of her students is rooted in inclusivity. As a mentor to high school and college students, Carrie's approach is non-judgmental, future-focused, and prioritizes a personalized experience for each individual that helps them identify and achieve their goals. She is devoted to advancing the careers of her students.
Areas of Research Specialization
Historic sacred spaces, vernacular architectural forms, and landscape painting and drawing
Art + Education
Areas of Teaching Specialization
All levels of Drawing and Painting, Color Theory, Art Education
External Affiliations
Education
M.F.A in Painting at University of Pennsylvania, 1998

B.F.A in Painting, magna cum laude at James Madison University, 1992
Awards
Homer L. Dodge Award for Outstanding Service

The Homer L. Dodge Award for Outstanding Service was established in 1985 by the late Norton Dodge, who served on the board of trustees of St. Mary's College from 1968 to 1980 and was professor of economics at the College from 1980 to 1989. This award recognizes faculty accomplishments. Patterson was the recipient of the Homer L. Dodge Award for Outstanding Service in 2019. 
Spotlight
The Shaping of America: a painter's perspective

June 16- July 11, 2020 

The Painting Center, New York, NY

Join us for an art exhibition featuring the paintings of ten artists who see and experience the genre

of landscape painting in uniquely different ways.