Professor of Art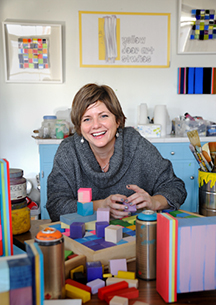 Biography
Carrie Patterson is a visual artist working in Leonardtown, Maryland. Her artwork considers how color, form, and line metaphorically measure the human condition as experienced through the body. She earned a B.F.A in studio art from James Madison University and an M.F.A in painting from The University of Pennsylvania. In addition she was a student resident at The New York Studio School where she worked with second generation abstract expressionists: Charles Cajori, Mercedes Matters, and Rosemarie Beck. Her artwork has been exhibited across the country with solo shows in New York City, Philadelphia, Virginia, and Minnesota. Internationally she has exhibited at Museo de Arte Moderno in Bogota Colombia in a show titled: Nine New York Painters. Recently, she has been making painted constructions based off her lived experience in her studio, the historic Breton House. A solo show of this work titled Lightbox will open at Hunt Gallery, Mary Baldwin University in Fall 2016.
Areas of Research Specialization
Historic sacred spaces and vernacular architectural forms that are commonly found in St. Mary's County
Areas of Teaching Specialization
All levels of Drawing and Painting
External Affiliations
Education
in Painting at University of Pennsylvania, 1998

B.A. in Student Resident in Painting and Drawing at New York Studio School, 1996

in Painting, magna cum laude at James Madison University, 1992

B.A. in Study Abroad at British Institute, 1991
Spotlight
Squared: An Interpretive Exhibition

Three artworks by Carrie Patterson were exhibited at Clyde Snook Gallery at Adams State University in Colorado. The pieces are part of a series titled: Mistaken Identity. The work features 1.5x.1.5 cubes of stacked ripped artist proofs: prints that she pulled as proofs to get to the final image. Artwork was created by Patterson but also assembled by St. Mary's College students.