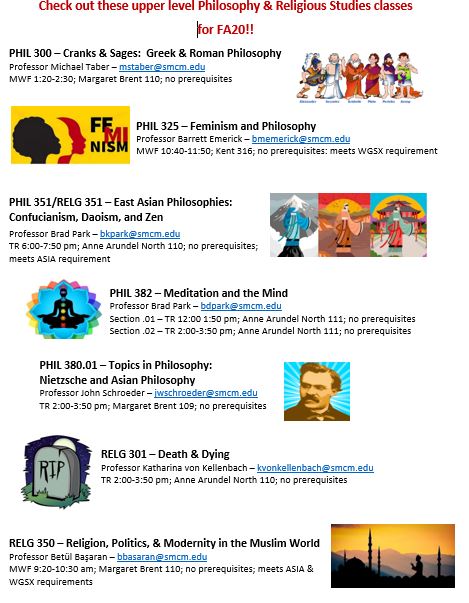 Registration for Fall 2020 begins April 1, 2020.  Check out these upper level classes in Philosophy & Religious Studies.
PHIL 300 – Cranks & Sages:  Greek & Roman Philosophy
Professor Michael Taber – mstaber@smcm.edu
MWF 1:20-2:30; Margaret Brent 110; no prerequisites
In this "Cranks and Sages" course, some of the thinkers we'll be engaging with (and I DO mean "really engaging with", and not "mechanically reading") come off as cranky, others as sagacious-and maybe some as both.  They all thought that there was something importantly wrong with the thinking dominant in their culture-the very situation in which some of you may find yourselves.  We will use these cranks and sages as springboards for our own discussions about "What is knowledge and how to tell the true from the false?" and "What is the best way to set up society.
PHIL 325 – Feminism and Philosophy
Professor Barrett Emerick – bmemerick@smcm.edu
MWF 10:40-11:50; Kent 316; no prerequisites; meets WGSX requirement
 What does it mean to be a feminist? 
Who can be a feminist (and should everyone be one)?
What is gender justice?
How can you be a good support to someone who is struggling with trauma?
In this class we will explore answers to those questions and think about what you should do to make the world better.
PHIL 351/RELG 351 – East Asian Philosophies:  Confucianism, Daoism, and Zen
Professor Brad Park – bkpark@smcm.edu
TR 6:00-7:50 pm; Anne Arundel North 110; no prerequisites; meets ASIA requirement
What is the wisdom of Confucius?
How can nature serve as a model for human beings?
What is the sound of one hand clapping?
Learn these answers and more in East Asian Philosophies!!
PHIL 382 – Meditation and the Mind
Professor Brad Park – bdpark@smcm.edu
Section .01 – TR 12:00 1:50 pm; Anne Arundel North 111; no prerequisites
Section .02 – TR 2:00-3:50 pm; Anne Arundel North 111; no prerequisites
Have you ever been curious about the practice of mediation? ... about its benefits? ... about different techniques?  This course examines meditation as a lens for better understanding the mind and its relation to the body.  It is a multidisciplinary course utilizing philosophical, religious, psychological, and neurobiological sources for deepening our analysis of meditation, in addition to first-hand experience, as we will be practicing at the beginning of each class meeting.  Counts towards the Neuroscience CSDA.
PHIL 380.01 – Topics in Philosophy:  Nietzsche and Asian Philosophy
Professor John Schroeder – jwschroeder@smcm.edu
TR 2:00-3:50 pm; Margaret Brent 109; no prerequisites
The primary focus of this course is an in-depth look at the philosophy of Frederick Nietzsche and his critique of the fundamental categories of Western philosophy.  We will examine key texts from the various stages of Nietzsche's life and will deepen our understanding of his philosophy through his poetry, the symphonies he composed, and his literary accomplishments.  We will also study the similarities between Nietzsche's philosophy and certain Asian thinkers, such as Zhuangzi, Dogen, and Nagarjuna.
RELG 301 – Death & Dying
Professor Katharina von Kellenbach – kvonkellenbach@smcm.edu
TR 2:00-3:50 pm; Anne Arundel North 110; no prerequisites
The global Corona pandemic is changing our experience and fears of death and dying.  Throughout history, infections have killed quickly, efficiently, and indiscriminately. For millennia, religions have provided the ideas and practices to endure the fear and to reflect on the meaning of the end of life. Humanity confronts finitude and mortality in religions that provide frameworks for generational continuity and spiritual transcendence: ancestors and covenants, reincarnation, the resurrection of the body, the world to come, heaven and hell, the immortality of the soul. We will surely different religious teachings before turning to the ethical questions associated with the medical and technological management of dying ion the contemporary western world. We will also examine religious memorial and mourning practices that shape the grieving process. This course requires students' willingness to navigate emotions that may be triggered by these topics and discussion; and may not be appropriate for individuals experiencing acute grief. 
RELG 350 – Religion, Politics, & Modernity in the Muslim World
Professor Betül Başaran – bbasaran@smcm.edu
MWF 9:20-10:30 am; Margaret Brent 110; no prerequisites; meets ASIA & WGSX requirements
Introduces students to the diversity of the Muslim world and its early-modern and modern history, focusing especially (but not exclusively) on the Middle East and North Africa.  This history is intertwined with the history of Europe and North America and includes a brief overview of the origins and development of Islam, followed by an examination of the relations between Islamic communities and the West since the colonial period.  Topics of focus may vary each semester, but often include discussions of European colonialism and imperialism, Muslim responses to post-colonialism and U.S. foreign policy, democratization of politics, popular protests, pluralism, religious violence, human rights, and gender justice.