"In larger colleges, you kind of get lost."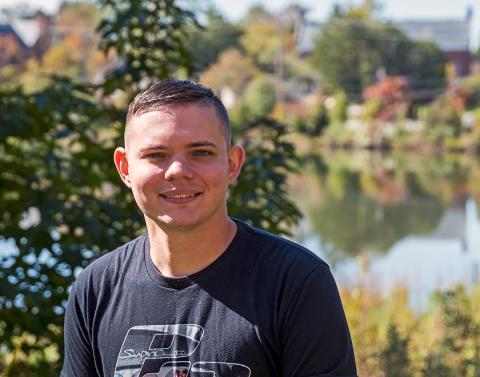 Robert Koontz '24 did not take the typical path to St. Mary's College of Maryland.

"I'm a little bit different of a college student," he says with a smile. "I look 16, but I'm 30."

His journey started when he decided to enlist in the Navy after high school in search of better opportunities than his rural Tennessee hometown offered him. That led him to a role as a sonar technician on a nuclear submarine, then a tour as a recruiter.

Along the way, he married his high school sweetheart, who took a more traditional collegiate path and became a doctor. While she was completing her medical residency in southwest Virginia, Robert attended a community college.

When his wife, now also in the Navy, was assigned to nearby Naval Air Station Patuxent River, Robert began looking for opportunities to finish his education and found St. Mary's College fit the bill, even for a decidedly non-traditional student like him.

He believed the admission process – particularly the transfer of credit – to be an advantage. "Everything's pretty easy to upload through the portal that they give you access to," he explains. "I sent my transcripts…they took a look at everything and they transferred [credits] in." His military training in subjects like sound theory, oceanography, underwater topography and electronics nicely complemented his chosen marine science major. "Credit determination, they're pretty flexible with," he says of his experience.

Robert finds the compact, waterfront campus to his liking, and appreciates the College's smaller enrollment and accompanying class sizes. "In larger colleges, you kind of get lost," he says.

Brought to Southern Maryland by chance, Robert found a home at St. Mary's College.