October 13, 2023
By Chuck Steenburgh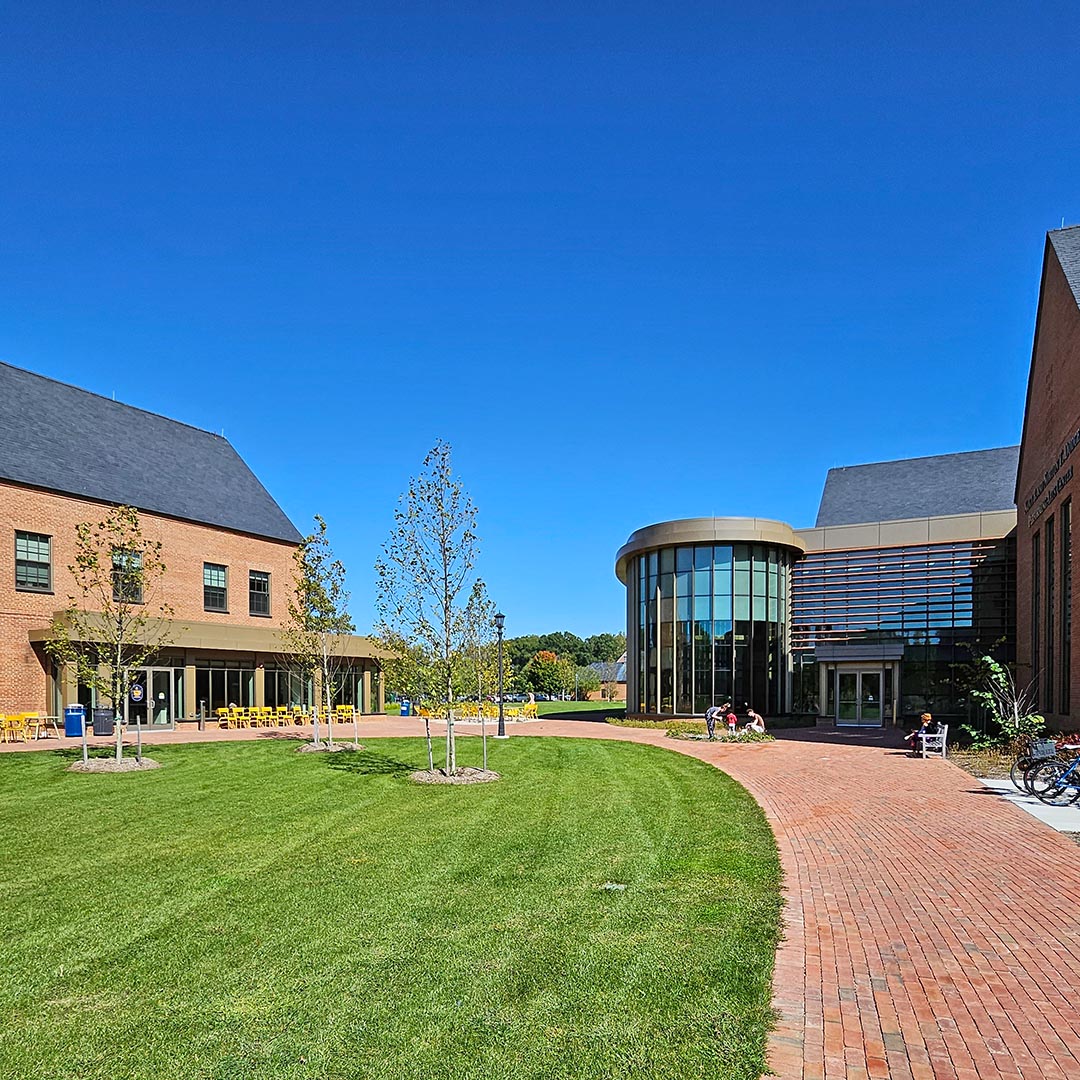 The Nancy R. & Norton T. Dodge Performing Arts Center and Learning Commons, both dedicated in September 2022, were named American Institute of Architects (AIA) Maryland's Public Buildings of the Year at the organization's annual Excellence in Design Awards. The construction project, a combined $66 million cooperative funding arrangement between the College and the state of Maryland, was also given an Honor Award for Institutional Architecture by the group, which represents more than 1,800 architects and allied professionals in promoting the practice of architecture. The architects for the project were GWWO | Architects, Inc. and the Gund Partnership.
The award citation read in part, "Public buildings can act as harbingers, as event-spaces that foreshadow or anticipate cultural experiences that harbor cultural memories and potential change...[the Nancy R. & Norton T. Dodge Performing Arts Center and Learning Commons] sensitively [knit] together the campus buildings with exceptional proportions, materials and details that [give] the campus a dignified and unified architectural character and sense of place."
"The Dodge Performing Arts Center and the Learning Commons have become a hub not just for the campus but for the entire community in hosting an array of performances, speakers, events and providing great collaborative spaces for our students," said Paul Pusecker, vice president for business and finance for the College. "We believe that the buildings' outstanding design characteristics were a key reason they were able to rapidly establish themselves as the centerpiece of the campus."
The Nancy R. & Norton T. Dodge Performing Arts Center features a 700-seat, acoustically optimized auditorium and 120-seat recital hall, together with classroom, office and rehearsal space for the College's music programs. A spacious, multi-functional lobby behind the sweeping glass face of the building contributes to both the aesthetics and functionality of the facility. The center has hosted a wide array of performances, speakers and cultural events in its first year, including 70's chart-toppers Average White Band, 5-time Grammy® winner Angélique Kidjo, cultural ambassadors Step Afrika!, playwright and actor Anna Deavere Smith and award-winning NPR correspondent Nina Totenberg.
The Learning Commons, adjacent to the Dodge Performing Arts Center, contains purpose-built classroom and office space for the College's Educational Studies department on its upper floor. The Educational Studies space provides a new presence for the College's only graduate-level program, and room to create flexible environments that allow Master of Arts in Teaching candidates to develop a variety of teaching skills. Downstairs, an array of rooms provide both private and collaborative study space for students, while the Brew'd Awakening coffee shop has quickly become a favorite spot for students, faculty and staff alike to meet and converse over coffee and other beverages and light snacks.
In addition to their aesthetic and functional excellence, the facilities support sustainable operations. Both were recently LEED (Leadership in Energy and Environmental Design) Silver certified by the U.S. Green Building Council.