October 18, 2023
By Chuck Steenburgh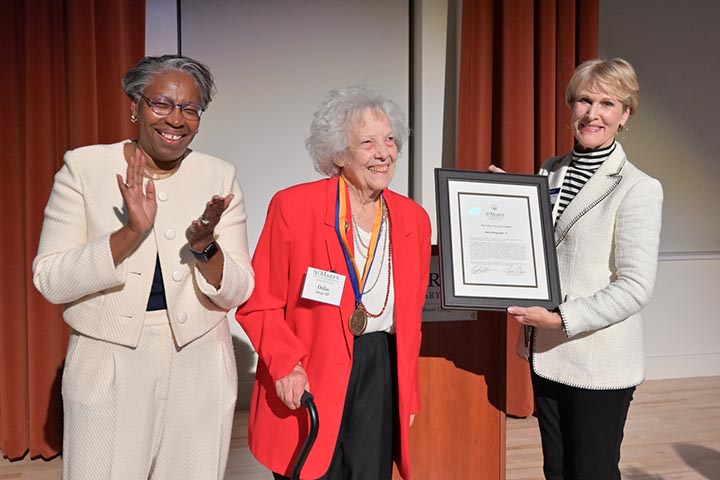 The St. Mary's College of Maryland Board of Trustees met on Friday and Saturday, October 13 and 14, 2023. The Board presented the College's highest honor, the Order of the Ark and Dove, to distinguished alumna Dallas Dean '60.
A 1960 graduate of St. Mary's Seminary Junior College, as St. Mary's College of Maryland was then known, Dallas Plugge Dean went on to obtain her Bachelor of Arts degree from American University in Washington, DC before embarking on a distinguished career as an educator. She was a lifelong champion of education, establishing the Dallas P. Dean Master of Arts in Teaching Scholarship at the College in 2002. Her support has both helped meet emergency expenses for the educational studies department as well as provided scholarships to support increased access to the MAT program. Her support, advocacy, and mentoring for SMCM students pursuing educational studies spans decades, predating the establishment of the MAT program.
"Dallas Dean epitomizes an engaged graduate of St. Mary's College of Maryland," said President Tuajuanda C. Jordan, PhD. "She couples impactful giving as a member of the Mulberry Tree Society for planned giving and the President's Circle for lifetime giving with an incredibly generous spirit that is evidenced by the many campus events she attends throughout the year and in the many students and graduates of the College she has mentored and befriended."
In other business, staff provided updates on the College's incoming first-year class and implementation of enterprise resource planning (ERP) software; and the board approved amendments to the FY 24 operating budget, FY 24 plant fund recommendations, and the annual Performance Accountability Report for submission to the Maryland Higher Education Commission (MHEC).
"The College has made great strides the past few months: entering the implementation phase of our strategic plan, The Rising Tide; the self-study for reaffirmation of accreditation with the Middle States Commission on Higher Education; and the public phase of Taking the LEAD, our fundraising campaign," said Susan Lawrence Dyer, chair of the Board of Trustees. "The Board looks forward to continuing this good work while ensuring our strategies align institutional goals with market trends, sound business practices, and return on investment."
The board was introduced to the newly hired Director of Public Safety Felix Martinez, EdD, who provided an update on the new campus safety model. Additionally, the board was informed of the designation of the Nancy R. & Norton T. Dodge Performing Arts Center and the Learning Commons as Maryland Public Buildings of the Year by AIA Maryland.