September 18, 2023
By Lee Capristo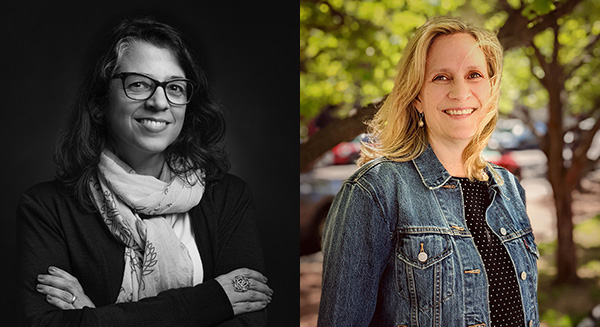 Books edited by Professor of History Adriana M. Brodsky and Professor of English Jennifer Cognard-Black are both featured in the fall 2023 catalog of publications by the New York University Press.
Brodsky's co-edited collection with Laura Arnold Leibman, "Jews Across the Americas: A Sourcebook, 1492 – Present," publishes on Sept. 28. Considered groundbreaking in its offerings toward understanding Jewish-American history, the book captures the historical diversity and cultural breadth of American Jews across Latin America, the Caribbean, Canada and the United States. The book builds upon new developments in Jewish Studies and highlights the lived experiences of those often left out of Jewish history. Brodsky has done extensive research on the Sephardi Jews of Argentina. In 2020, she received funding from the National Endowment for the Humanities for research on Jewish Argentine Youth. She was a Fulbright Senior Scholar to Israel in support of research in 2018. She is also author of the book "Sephardi, Jewish, Argentine: Community and National Identity 1880-1960" (Indiana Univ. Press, 2016).
Cognard-Black's co-edited collection with Melissa A. Goldthwaite, "Good Eats: 32 Writers on Eating Ethically" publishes in January 2024. Featuring a diverse ensemble of award-winning writers, chefs, farmers, activists, educators and journalists, "Good Eats" invites readers to think about what it means to eat according to our values, prompted by writers seeking to understand the experiences and systems that have shaped their eating and their ethics. This book is the second collaboration between Cognard-Black and Goldthwaite, the first having been "Books That Cook: The Making of a Literary Meal (NYU Press, 2014), in which two former St. Mary's students, Cheryl Quimba and Caitlin Newcomer, have published pieces. The 2020 recipient of the Robert Foster Cherry Award for Great Teaching, Cognard-Black has two lecture series with The Great Courses as well as an Audible Original, "Food & Fiction" (2021). Her 2020 Fulbright Senior Scholar award to the Netherlands to teach and research food justice contributed to her new anthology project as did her Independent Artist Award from the Maryland State Arts Council in 2022.