May 05, 2023
By Chuck Steenburgh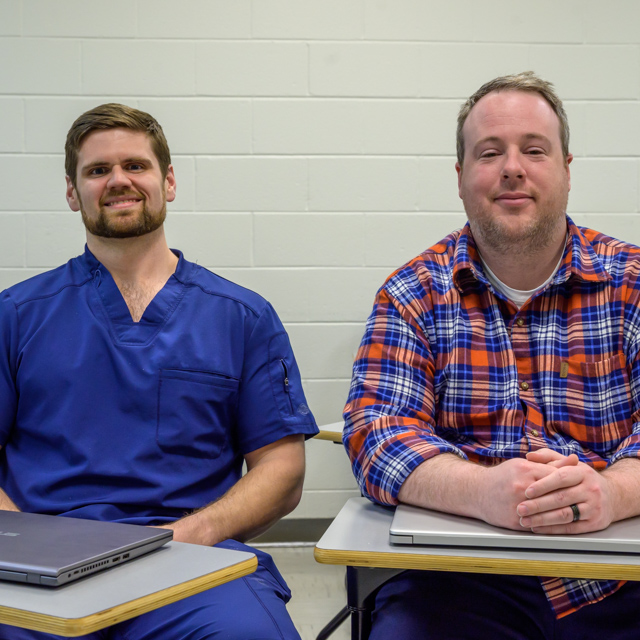 St. Mary's College of Maryland students Mathias Boddicker '23 and Nathaniel Champion '23 recently completed the course CYB 5640 Cyber Training Range through the Defense Acquisition University (DAU) Mid-Atlantic Regional Headquarters in California, Maryland. The students' participation in the intensive, 2.5-day course was the result of a collaboration between SMCM and DAU, which will involve more opportunities for SMCM students as well as faculty from both institutions.
"We're especially grateful to DAU Associate Dean of Academic Affairs Joe Moschler and DAU Chair of the Technical Department Jerome Collins for fostering this growing collaboration between the DAU and SMCM," said Katherine Gantz, PhD, vice president for academic affairs and dean of faculty at SMCM. "DAU's generous sponsorship for this training not only provides our students invaluable cybersecurity experience but also strengthens the pipeline of talented professionals into the southern Maryland workforce."
"DAU's goal is to train a workforce with the skills and abilities to creatively solve national security challenges in a complex global environment. As part of our plan, we have a goal to work with colleges and universities like SMCM to help build our future workforce" said Steve Minnich, dean of DAU Mid- Atlantic.
"I am excited to be working with DAU to provide co-curricular education that will enhance students' skills in the workforce," said Associate Professor Simon Read, PhD, of SMCM's Department of Mathematics & Computer Science. "The skills provided by this program cannot be provided through the normal curriculum of the College and therefore partnerships such as these are important."
The course completed by the students provided hands-on laboratory exploration of adversarial cyber threats to DOD networks and weapons systems. The inclusion of offensive techniques training for DOD weapons systems differentiates this workshop from similar training provided in the commercial sector.
The two students described being shown specific exploits that had been used in previous cyber attacks. "They gave us some of the building blocks you need to do some of these exploits," said Champion. "The purpose of this class was a good defense is a great offense."
"Practical, real-world examples and concrete methodologies," added Boddicker. "So we walk through the things that have been done before and that will hopefully give us a better idea of how to prevent future attacks."
"Both Nathaniel and Mathias were well suited in experience and knowledge to sufficiently complete the class. They were a good fit and I'm looking forward to additional SMCM students to be included in future classes" said Tim Kuno, DAU's lead instructor for the CYB-5640 class.
Though both students are primarily interested in software development, they gained an appreciation for how cybersecurity might figure into their individual career prospects. "Cybersecurity is something that I like, I could see myself doing it," said Boddicker. "If I get moved into a job doing cybersecurity I will not be upset."
For his part, Champion said, "It teaches you as a programmer that these are some of the things that don't really go towards the goal of your program but are things you need to do to be able to protect [the system]…which is not something I was aware of prior to this [training]."