February 22, 2023
By Chuck Steenburgh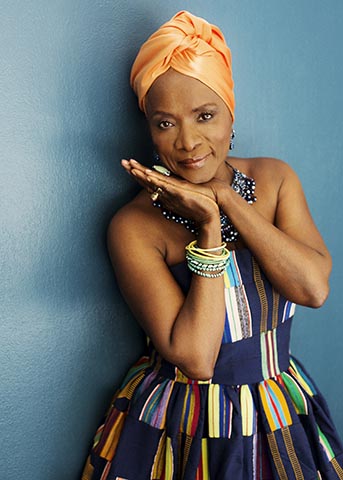 Five-time Grammy award winner Angélique Kidjo is bringing her energy and incredible talent to a concert performance at the Nancy R. & Norton T. Dodge Performing Arts Center on the campus of St. Mary's College of Maryland on Saturday, May 13 at 7 p.m.  One of the greatest artists in international music today, a creative force with 16 albums to her name, Time Magazine has called Kidjo "Africa's premier diva."
As a performer, her striking voice, stage presence and fluency in multiple cultures and languages have won respect from her peers and expanded her following across national borders. Kidjo has cross-pollinated the West African traditions of her childhood in Benin with elements of American R&B, funk and jazz, as well as influences from Europe and Latin America. Kidjo also advocates on behalf of children as a UNICEF and OXFAM Ambassador. She created her own charitable foundation, Batonga, dedicated to support the education of young girls in Africa.
Tickets are $30-$35 and on sale now through the EventBrite.  Dedicated in 2022, the Nancy R. & Norton T. Dodge Performing Arts Center is a vital part of the St. Mary's College of Maryland campus, and serves as a focal point for the performing arts not only for the college, but for the community as a whole. The 700-seat auditorium provides an intimate, acoustically dynamic environment with outstanding viewing angles regardless of seat location - a venue like no other in Southern Maryland.
St. Mary's College of Maryland is accredited by the Middle States Commission on Higher Education. St. Mary's College, the National Public Honors College, is ranked as the top public liberal arts college in the U.S. by Money magazine. Approximately 1,600 students attend the college, nestled on the St. Mary's River in Southern Maryland.