October 06, 2022
By Chuck Steenburgh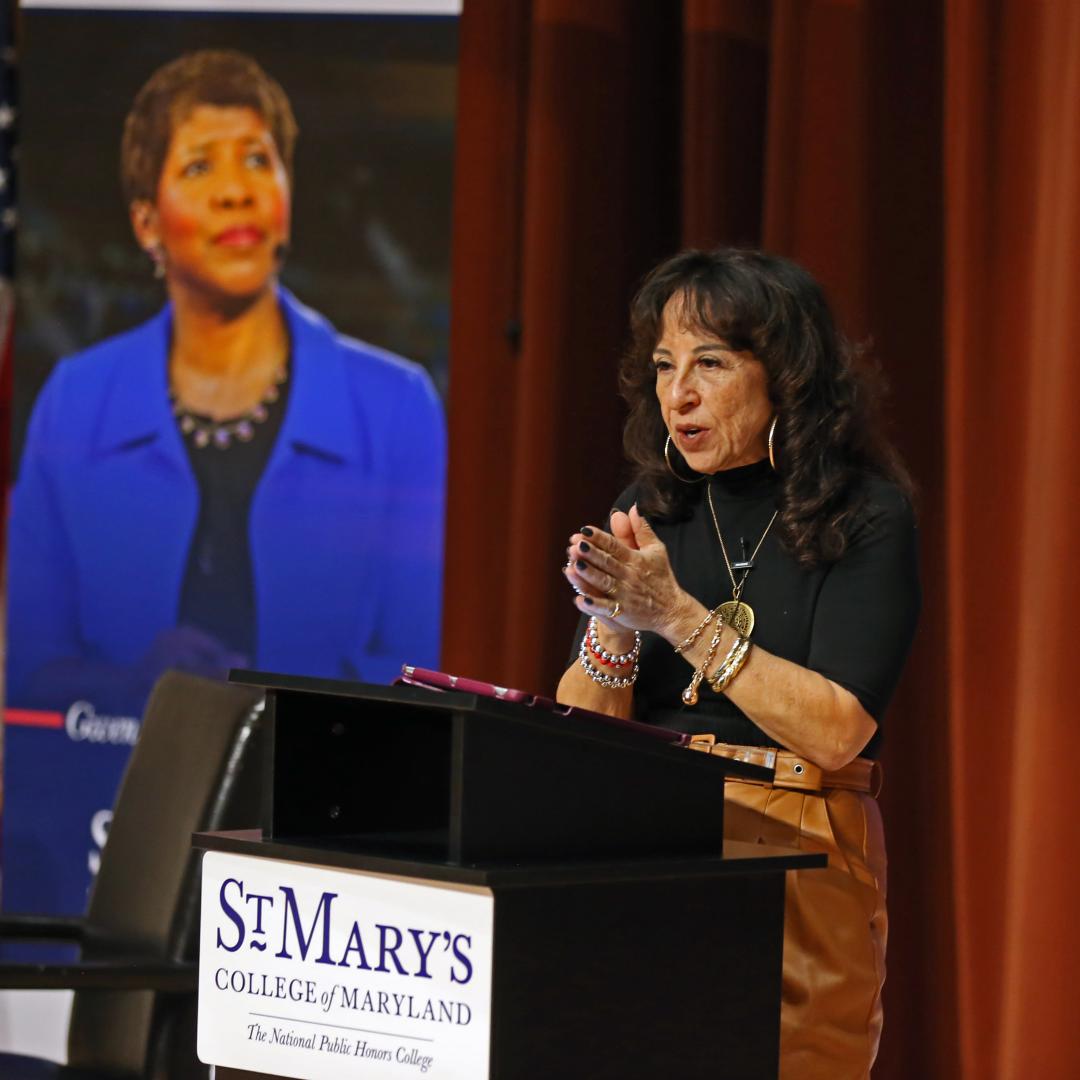 Pulitzer Prize-winning journalist Maria Hinojosa, anchor and executive producer of Latino USA and founder of Futuro Media Group, delivered the inaugural Gwen Ifill Lecture at St. Mary's College of Maryland on Tuesday, October 4.
In keeping with the purpose of the lecture series, named for the trailblazing former co-anchor of the "PBS NewsHour," Hinojosa described the importance of diversity and inclusion in maintaining democracy in America. Relating examples from her own experience as an award-winning journalist covering stories from the forefront of American society, Hinojosa emphasized the important role media has to play in telling the stories of those who have historically been excluded or marginalized.
"I realize I am a descendant, in my journalism…of Frederick Douglass…his newspaper was called The North Star, and he is my North Star," said Hinojosa during her lecture, referencing the legendary social reformer who escaped slavery to become one of America's foremost orators, abolitionists, and writers. She further noted that after founding her own award-winning media group, she reminds her colleagues in newsrooms across the nation of the necessity of diversity in reporting. "If your newsroom…is not representative…then we're not even in competition," she noted, "because you can't be practicing excellence in journalism if your newsroom is not representative."
Related content: photo album
Hinojosa made frequent references to her late colleague, Gwen Ifill, throughout her comments. She noted that they both, as women journalists representing historically underrepresented and marginalized groups of American society, both understood "…that our role is not to…just be stenographers, and tell people what is happening, but rather to give context and analysis."
Hinojosa spent much of the day on campus, meeting students, faculty, staff, and members of the community, both before and after her lecture. She also signed copies of her memoir, "Once I Was You: A Memoir of Love and Hate in a Torn America."
St. Mary's College of Maryland President Tuajuanda C. Jordan, PhD, welcomed the audience to the Nancy R. & Norton T. Dodge Performing Arts Center Recital Hall and provided an overview of the Gwen Ifill Lecture Series and its importance in today's political and social environment. Director of the Center for the Study of Democracy, Associate Professor Antonio Ugues Jr., PhD, described the center's mission and activities, particularly as the sponsor of the Gwen Ifill Lecture Series. Hinojosa was introduced by Bert Ifill, PhD, brother of the late Gwen Ifill and former visiting professor and interim dean of the faculty at St. Mary's College of Maryland. Bert Ifill reminded the audience that Gwen Ifill had herself twice spoken at the College, having delivered the Ben Bradlee Lecture and also serving as the commencement speaker in 2014. In a prescient introduction, Bert Ifill noted of his late sister's early career as a reporter, "even then, her calling wasn't simply just to 'get the story,' she wanted to get the story right, and get out the right stories: issues and perspectives that were underreported and even misreported."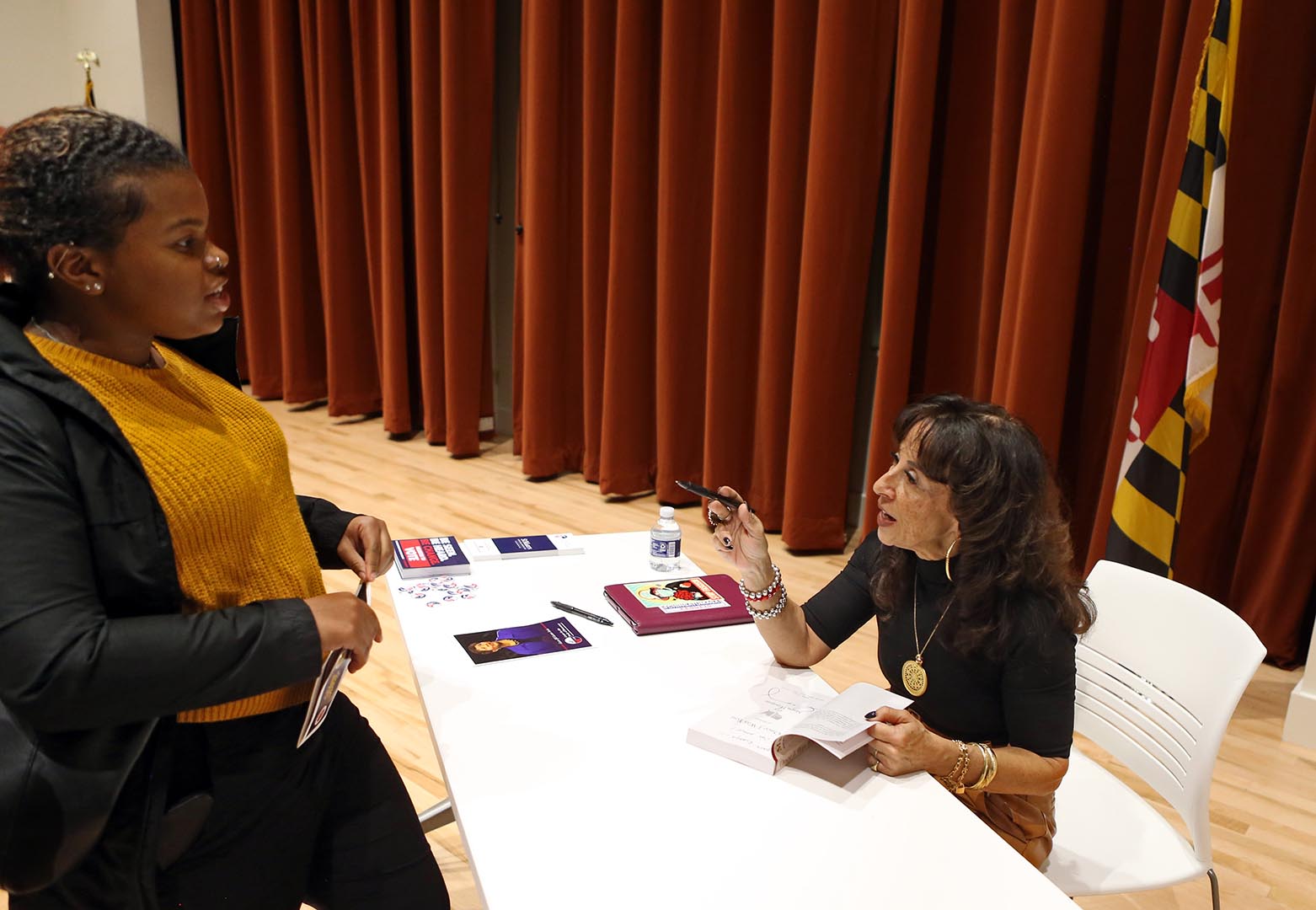 ABOUT THE LECTURE
The Gwen Ifill Lecture Series is dedicated to honoring the legacy of the late Gwen Ifill. As a reporter, television newscaster, and author, Ifill notably was the first African American woman to host a nationally televised U.S. public affairs program and was also a political analyst who moderated the 2004 and 2008 vice-presidential debates. The new lecture series, modeled after her belief that a robust, independent media is critical to a democratic society, will focus on ethnically diverse individuals who have made significant contributions to the social and political landscape through work in journalism and media.