May 15, 2020
By Michael Bruckler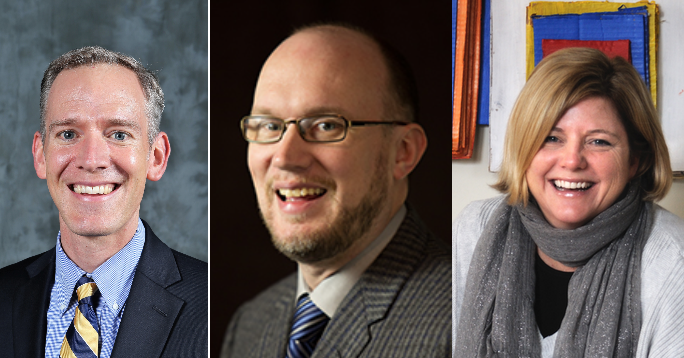 St. Mary's College of Maryland Provost and Dean of Faculty Michael Wick has named three new faculty members for distinguished professorships.
The Aldom-Plansoen College Fellowships are granted to associate professors for a two-year term.  In honor of recent professional accomplishments and promising developing research, outstanding mid-career faculty are rewarded with funds to sustain and enrich their scholarly contributions. The fellowship award is generously supported by the Aldom-Plansoen Endowment established in 1999 by Jarrod Aldom '97 and John Plansoen.
The 2020-2022 Aldom-Plansoen College Fellows are:
Matthew Fehrs, associate professor of political science, has his doctorate in political science from Duke University. His most recent work, "Too Many Cooks in the Foreign Policy Kitchen: Confused British Signaling and the Falklands War," is forthcoming in Democracy and Security.
Kent Randell, college archivist and associate librarian, has his master of science degree in information, with a concentration in archives and records management from the University of Michigan Ann Arbor. His most recent article, "The Enigmatic 1744 Will of John 2 Rousby: A Case Study in Coverture, Private Baptisms, Passing Property to Illegitimate Heirs in the Presence of Legitimate Heirs, and a Pattern of Diminished Marriage Prospects for Those Heirs," is forthcoming in the Maryland Genealogical Society Journal.
The Steven Muller Distinguished Professorship of the Arts was created in 2000 by the late Steven Muller, donor and former Chair of the College's Board of Trustees. The Distinguished Professorship of the Arts honors a faculty member whose accomplishments in the visual/performing arts are recognized as distinguished by peers in the field. The Steven Muller Professor of Arts participates in a broader world of art and culture that informs opportunities for SMCM students. The professorship is granted for a three-year term.  The College is ever-grateful to Steven Muller for creating the fund that continues to support these awards.
The 2020-2023 Steven Muller Distinguished Professor of the Arts is:
Carrie Patterson, professor of art, has an MFA from the University of Pennsylvania. Her work has recently been featured in such national group exhibitions as the Painting Center's "25th Anniversary Show" (2019, New York) and the national juried group exhibition, "X Marks the Spot" (2018, New York Studio School). Patterson has published art courses through The Great Courses online learning program and has been an active collaborator in many community art projects involving SMCM students, including the popular Tiny House project with colleague Barry Muchnick, assistant professor of environmental studies, and after-school art programs with Lexington Park Elementary School.