January 20, 2020
By Michael Bruckler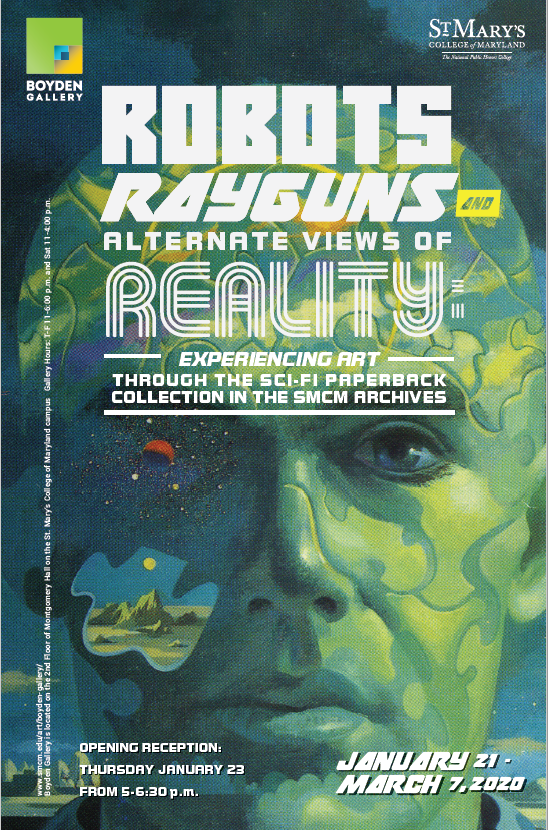 On Thursday, January 23, from 5 – 6:30 p.m., The Boyden Gallery will hold an opening reception for an exhibition created with a unique collection held in the Archives. The family of Thomas M. Barrett, a popular professor of Russian and world history, donated his collection of science fiction and detective trade paperbacks, dating from the 1950s, 1960s, and 1970s, after he died in 2016.
Selections from this collection will be the core of the exhibition, "Robots, Rayguns, and Alternate Views of Reality: Experiencing Art Through the Sci-Fi Paperback Collection in the SMCM Archives," which will be on view in the gallery from January 21 through March 7.  The exhibition will address how in addition to their literary content, these trade paperbacks are also collected and studied for their cover art. It will also cover the adaptation of science fiction works into film and reflect upon the nature of collecting. 
In addition to seeing the books themselves, visitors to the gallery will be able to listen to some of the works being read, watch clips from Russian and American versions of a science fiction movie, and design their own robot at a robot station.  
During the January 23 opening reception, celebratory remarks will begin at 5:30 p.m. with speakers to include Kent Randell, college archivist; Carrie Patterson, professor of art; Joe Lucchesi, professor of art history; and alumnus Ben Israel '14, history major. The reception and celebration are co-sponsored by the Department of History. 
Boyden Gallery is located on the 2nd floor of Montgomery Hall on the St. Mary's College of Maryland campus. The reception and celebration will take place in the Gallery and adjoining space in Montgomery Hall.
For more information, email boydengallery@smcm.edu or Gallery Director Erin Peters at eapeters@smcm.edu.