November 15, 2019
By Michael Bruckler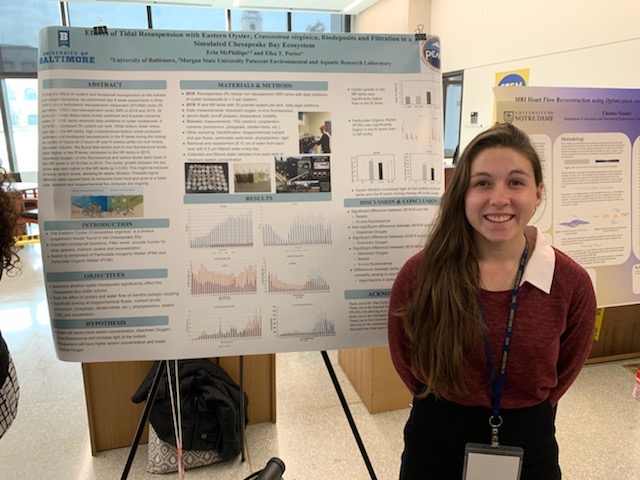 St. Mary's College environmental studies major Erin McPhillips '20 and chemistry major Coleman Welles '20 attended the ninth annual Naval Academy Science and Engineering Conference in Annapolis, Maryland, in November. The theme of the conference was Oceans: Exploration, Conservation, and Extreme Events. Both McPhillips and Welles hope to pursue careers in the environmental field.  
McPhillips presented a poster titled "Effects of Tidal Resuspension with Eastern Oyster, Crassostrea virginica, Biodeposits and Filtration in a Simulated Chesapeake Bay Ecosystem."
Based on her summer research with Elka Porter, University of Baltimore, McPhillips tested the effect of oysters and biodeposit resuspension on the nutrient and oxygen dynamics, by performing two 4-week experiments in three turbulence resuspension mesocosm tanks and three non-resuspension tanks in 2018 and 2019. All tanks contained defaunated muddy sediment and brackish estuarine water. In 2018, tanks received daily additions of oyster biodeposits, and in 2019 they contained 35 oysters per tank. Sediment and biodeposit resuspension production were examined and recorded in each tank, along with seston, in-vivo fluorescence levels, and oyster growth. Nutrient and biogeochemical flux analyses are ongoing.