July 11, 2019
By jwarren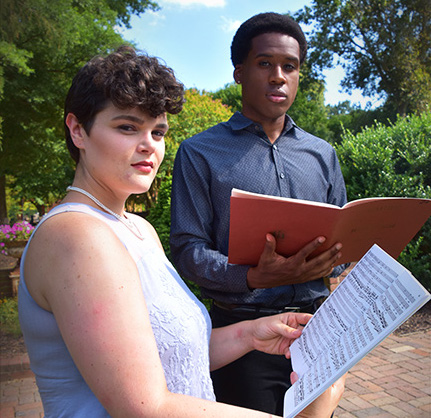 On July 26 at 7:30 p.m., St. Mary's College music students Michael Miller '20 and Jeanette Marie Warren '20 will join the National Philharmonic's Summer Choral Institute for a concert at the Robert E. Parilla Performing Arts Center at Montgomery College. Featuring Mozart's "Coronation Mass in C" and Gabriel Faure's "Requiem," the concert is free and open to the public.
A partnership between the National Philharmonic and Montgomery College, the Summer Choral Institute undertakes superior vocalists for two weeks of intensive musical study. 
Miller and Warren have been featured soloists in numerous productions, including Handel's "Messiah," and were both principal members of the opera "Amahl and the Night Visitors." They have performed at the National Cathedral in Washington D.C., the St. Anne's Concert Series in Annapolis, and the Alba International Music Festival in Italy.
Miller is also the principal bassist for the St. Mary's College Orchestra and Jazz Band, and is musical director of the College's only male a cappella group. Warren studies piano and regularly performs in the community with the voice studio of Jennifer Cooper. Both are active in theater and opera. 
On Friday, July 12, Miller and Warren will join PING! a cappella for a full-length program at the River Concert Series, to include a featured Bach quartet. This Thanksgiving, they will perform at New York's illustrious Carnegie Hall with local choir Voices of Trinity.