May 14, 2019
By Michael Bruckler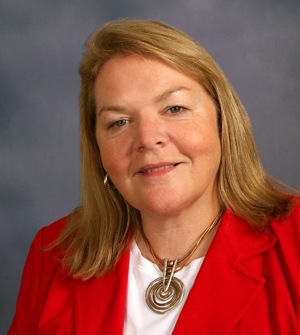 Cindy Broyles '79 will not seek re-election from St. Mary's College of Maryland's Board of Trustees following the 2019 academic year. The Board of Trustees voted her Board of Trustee Emerita because of her 12 years of significant and impactful service to the College. Broyles was appointed in 2007. Prior, she served on the Alumni Council from 2004-2006.
She has volunteered for many alumni activities including Bookbag to Briefcase, career service programs, admissions events, Governor's Cup Yacht Race and Alumni Weekend.  Broyles has also helped attract distinguished speakers to the College's Center for the Study of Democracy, including the former director of the CIA and the director of National Intelligence. 
According to Broyles, she became a trustee "to give back to the institution that was a pivotal part of preparing me for life." She is co-chair of the Student Affairs Committee, and a member of the Executive Committee and the Institutional Advancement Committee. Broyles served as Board of Trustees Vice-Chair from July 1, 2013 to June 30, 2016.
During the annual Board of Trustees dinner following the May meeting, Board Chair Sven Erik Holmes described Broyles as "a graduate who embodies the spirit of this place, so in every way being with Cindy is like being with St. Mary's. [Cindy] is absolutely an extraordinary analyst and consultant. She will be missed."
Trustee Gail Harmon said, "[Cindy] has given an enormous amount of time, served on several committees, and brought prestigious speakers to the Center for the Study of Democracy. She has been among the most generous of our current donors. Cindy was always there, with her intelligence and with her talent and assets. She has been an invaluable member of the Board. I want to recognize her as an extraordinary member of the College."
St. Mary's College President Tuajuanda Jordan said, "She established a scholarship in 2011 and consistently gives to various funds that touch on every aspect of student life. Because of her contribution, the rehearsal hall of the new academic building will bear her name. I consider her a colleague and it broke my heart when she made this decision. We will find a way to keep her engaged."
Broyles said, "Forty-five years ago I came to this campus as a freshman. It's a powerful institution and today it's even more powerful. I have been honored to be part of this College and part of this family. This is just a very special place… from the river and the people here to the students. I will always be a Seahawk."
Broyles retired from Booz Allen Hamilton as a senior vice president. During her career, she led large business segments and multidisciplinary teams in support of major defense acquisition and operational support programs. Within the firm, she was the Women's Leadership Initiative (WLI) champion focusing on development of strategies for advancement of women at Booz Allen.
She tells students to "take advantage of the full opportunities you have while in college. Push yourself beyond the easy, do things that challenge you, excel in writing, learn something fun and different outside your major, and develop a fun life. If you want to be a step ahead, take advantage of job preparation skills and courses." She also advises students that "a career is a marathon.  Use every position as a building block to get to your goals. Get mentoring, take charge of your career, and don't wait for others to take charge or manage your career for you."
Broyles earned her master's degree in systems management and a Certificate in Management Information Systems from the University of Southern California (1989), and holds a Bachelor of Arts degree majoring in social science from St. Mary's College (1979). In addition, she completed a Harvard University, John F. Kennedy School of Government Senior Executive Program in National and International Security (2005). While at St. Mary's College, Broyles was an active member of the newly created women's lacrosse club. She continues to be a strong supporter for the women's lacrosse program today.