May 14, 2019
By Michael Bruckler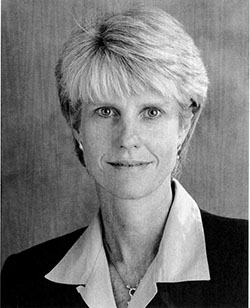 Ann L. McDaniel will not seek re-election from St. Mary's College of Maryland's Board of Trustees following the 2019 academic year.
She joined the Board in 2013 and currently serves as vice-chair. She is also the vice-chair of the Executive Committee, and a member of the Academic Affairs Committee and the Admissions and Financial Aid Committee.
During the annual Board of Trustees dinner following the May meeting, Board Chair Sven Erik Holmes congratulated McDaniel for her service and thanked her "for all you've done for St. Mary's College, and thank you for being a friend." He continued, "It is truly with great sadness that I think of Ann leaving. She's invaluable. Her judgement is spot on. She brings her insight to everything we do, and most of all she is great company."
Trustee Peter Bruns said, "She has brought to the board the strength of someone who has worked with challenges. She tends to be quiet, but when she speaks, people listen."
St. Mary's College President Tuajuanda Jordan said, "Ann is a woman who speaks to who I am. She is direct; she can ask tough, insightful questions. She listens. She understands and appreciates the liberal arts. Her generosity to the College has always been there. I have sought her counsel several times and each time I have left that interaction with clarity. Ann is not just a trustee, she is a mentor and an adviser."
McDaniel thanked President Jordan, the Board of Trustees and "all of you who have welcomed me into this environment." She continued, "I commend everyone who has worked for the last six years to give our students a great education and the skills they need. Be bold. Make more changes. Do interesting things. Support our president."
McDaniel is a longtime journalist and media business executive. She began her career as a reporter at the Dallas Times Herald in 1977 and moved to Newsweek in 1984. McDaniel covered the Supreme Court, the 1988 presidential campaign and George H. W. Bush's White House before rising to managing editor of the magazine. In 2001, she moved from Newsweek to its then parent company, The Washington Post Company, where she served as a senior executive until 2015. (In 2013, The Washington Post Company became Graham Holdings Company.) McDaniel now serves as a consultant to the company.
McDaniel also serves on the board of directors for The Match Group, and is chair of its compensation committee. She also is on the board for The Strathmore Performing Arts Center.  
She resides in Bethesda, Maryland.