September 12, 2018
By Michael Bruckler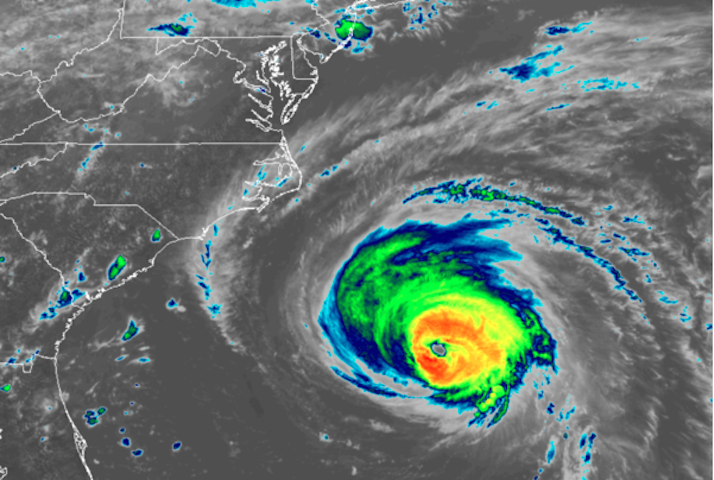 St. Mary's College of Maryland Emergency Response Team has continued to monitor the expected track of Hurricane Florence and its potential to interrupt operations at the College. The track of the storm presently suggests its greatest impact will be near the Carolinas with Maryland outside the scope of the storm's most significant impact.
Recognizing the possibility of strong winds and heavy rainfall that may contribute to downed trees and power lines, St. Mary's College will cancel all classes and activities beginning at noon, Thursday, Sept. 13. Classes and activities expected to resume on their normal schedule on Monday, Sept. 17.  Early closure on Thursday will permit students, faculty and staff time for either travel or preparation to remain on campus during the storm this weekend. Students who leave campus for the weekend should notify their RA. Students who choose to stay on campus should communicate their plans with their families. Essential employees should report at their designated time.
Residence halls will remain open throughout the weekend. Public Safety, residence life, facilities, and food service staff will work actively to ensure that we are operational for students who remain on campus. In the event of a power outage or other storm related impact to our campus, we have secured the emergency resources necessary to address student needs. We do not anticipate the need to evacuate buildings or the campus, but in the extreme case that we do, RA and Public Safety staff will direct students.
The Great Room will be open from 7 a.m. - 7:30 p.m. on Thursday, Sept. 13. Reduced hours will be in effect Friday, Sept. 14 - Sunday, Sept. 16:  brunch 10 a.m. – 2 p.m., light lunch 2 – 4 p.m., dinner 4 – 6 p.m. Grab 'n' Go will be open Thursday from 7:30 a.m. - 2 p.m. and closed Friday. The Pub will be closed Thursday, Friday and Saturday. If the Campus Center does close during the weekend, food service will be provided directly to residence halls.
Students, faculty and staff, should take precautions, including:  
Charging communications devices and portable battery backups

Gathering basic personal supplies such as food, water, and flashlights (candles are not permitted in residence halls)

Refilling any prescriptions and having an emergency bag of medication

Filling up the gas tanks of vehicles

Unplugging televisions, electronic equipment, and lamps

in case of post-outage power surges

Closing and locking windows, and removing items from window ledges
For more information and tips to prepare for a hurricane, please visit the following Public Safety page: http://www.smcm.edu/publicsafety/emergencies/hurricane-plan/
For a department guide checklist, visit http://www.smcm.edu/publicsafety/wp-content/uploads/sites/44/2016/06/hurricane-checklists-for-departments.pdf
We also urge the campus community and parents to download the new CampusShield app which will allow you to receive Seahawk Alerts (text alerts) that instantly notify you of college closings due to weather or other reasons. 
To download the app, follow these simple steps (you only have to do this once)
Step One: Download CampusShield from 

Google Play

 or the 

Apple App Store

.

Step Two: Select St. Mary's College of Maryland from the list of schools. 

Step Three: Select whether you are a Student or Faculty/Staff

Step Four: Fill out registration information

Step Five: Delete 911Shield app from your phone if you have the old app
The application is available for free on both Android and iPhone devices. If you don't have a smart phone, you can still sign up for text alerts by visiting https://portal.publicsafetycloud.net/community-alerts/St-Marys-College-of-Maryland and completing your profile.