Professor of Political Science and Public Policy | Coordinator of Public Policy Program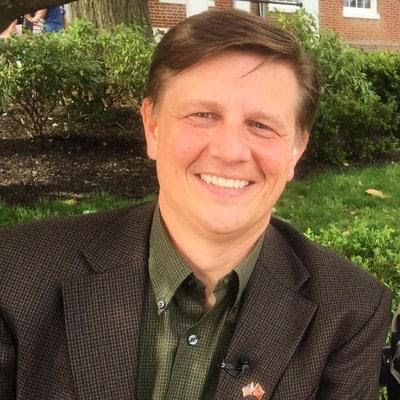 Biography
Todd Eberly is an associate professor of Political Science and coordinator of Public Policy Studies at St. Mary's College of Maryland. He specializes in American health and welfare policy, with a focus on the policy and political legacies of the Great Society. Professor Eberly's first book, American Government and Popular Discontent was released in June, 2013 by Routledge. His second book, The Rise of Ideology in America, is expected from Rowman and Littlefield in early 2015. He is an advisor to Project Vote Smart and his analysis and commentary have been featured in the Washington Post, the Baltimore Sun, and Public Radio/Television. He has served as an expert witness in cases challenging gerrymandered Congressional districts and has consulted with the centrist organization Third Way. He was named one of the most influential voices in Maryland politics by Campaigns and Elections magazine. In 2010, the St. Mary's College Student Government Association honored him with the Faculty Student Life Award. He lives in Southern MD with his wife and two daughters.
Areas of Research Specialization
American Government and Politics
American Public Policy
Polarization
Areas of Teaching Specialization
Education
B.A. in Political Science at Clarion University, 1996

Ph.D. in Public Policy at University of Maryland, 2006

at ,
Spotlight
Eberly releases American Government and Popular Discontent: Stability without Success

Popular distrust and the entrenchment of government by professionals lie at the root of America's most pressing political problems. How did U.S. politics get to this point? Contemporary American politics got much of its shape from the transformations brought about from the 1950s to the 1980s. Presidential and congressional behavior, voting behavior, public opinion, public policy and federalism were all reconfigured during that time and many of those changes persist to this day and structure the political environment in the early twenty-first century.

Throughout American history, parties have been a reliable instrument for translating majority preferences into public policy. From the 1950s to the 1980s, a gradual antiparty realignment, alongside the growth of professional government, produced a new American political system of remarkable durability – and remarkable dysfunction. It is a system that is paradoxically stable despite witnessing frequent shifts in party control of the institutions of government at the state and national level. Schier and Eberly's system-level view of American politics demonstrates the disconnect between an increasingly polarized and partisan elite and an increasingly disaffected mass public.

"In this stimulating and incisive volume, Schier and Eberly accomplish something quite striking – they make sense of a broad variety of trends in contemporary American politics that seem to defy any synthetic explanation. The authors argue consistently and forcefully that we should view current American politics as a system – an ensemble of forces and elements that exhibit considerable stability, despite the frequent changes in party control and other signs of surface instability. We have many books that illuminate particular elements of American politics, but few if any that bring coherence to the whole. I highly recommend this book for use in upper-level undergraduate courses on modern American politics."

—Andrew J. Polsky, Hunter College, CUNY

Eberly Discusses MD Primary on MPT State Circle

Associate Professor Todd Eberly and Melissa Deckman '93 discussed the primary election on MPT State Circle on June 27.

Deckman is the Louis L. Goldstein Professor of Public Affairs and Chair of the Political Science Department at Washington College.

State Circle has served a resource for Maryland residents to keep up to date on major political issues, pending bills and legislative news for 30 years through commentary from experts.

Eberly Discusses Katie O'Malley on Al Jazeera

Associate Professor Todd Eberly appeared on the America Tonight program on Al Jazeera America to discuss Katie and Martin O'Malley's presidential ambitions.