Professor of Educational Studies
Department Chair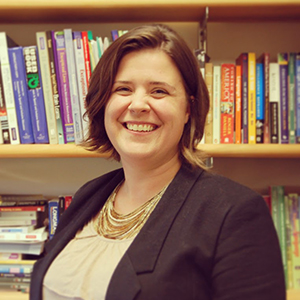 SMCM Alum , Class of 2000
Biography
Dr. Katy Arnett joined the faculty in 2005 and teaches graduate and undergraduate courses in Educational Studies. Previously, she was a high school teacher of French in the Baltimore area, where she taught both beginner and Advanced Placement classes to students with a wide range of learning needs. 
Dr. Arnett's teaching and research interests in inclusive teaching practices and methods within second language classrooms began as an undergraduate student and has expanded in recent years to consider how newcomer students navigate the process of developing English within the content classroom. Her research has been disseminated in both English and French in multiple venues, including peer-reviewed journals in the U.S., Canada, and the United Kingdom and practitioner-oriented publications in the U.S., Canada, and Switzerland. She has presented at conferences in the United States and Canada, and has been invited to speak to various school districts in the U.S. and Canada, provincial Ministries of Education in Canada, and at professional conferences for classroom teachers across Canada and the United States. She was a Fulbright Scholar (2012-2013) at the Second Language Research Institute of Canada at the University of New Brunswick.  
Dr. Arnett has written or co-authored several books focused on inclusive education within language learning settings.  Her first book, Languages for all: How to support and challenge students in a second language classroom was published in 2013 by Pearson Education Canada. Also in 2013, and in collaboration with Dr. Callie Mady of Nipissing University, she co-edited and contributed a chapter to the volume, Minority populations in Canadian second language education, which was published by Multilingual Matters in the United Kingdom.   In 2018, with Dr. Renée Bourgoin, she co-authored Access for success: Making inclusion work for language learners.  Dr. Arnett has also co-developed, developed, or contributed to multiple textbook programs for teaching French as an additional language to students in Canada, most notably Points de connexion with Dr. Callie Mady (Pearson Education Canada, 2015) and Jusqu'au bout (Pearson Education Canada, 2020).  
For the past several years (2017-sabbatical this year), Dr. Arnett also served as the Coordinator of Transparent Teaching & Assessment, as well as the Faculty Advisor for Academic Accessibility for the campus.
Areas of Research Specialization
Second Language Development for students with Language-based learning difficulties
Educational Experiences of Newcomer Students
Teachers' beliefs and practices
Areas of Teaching Specialization
Methods of Teaching
Language-based learning challenges
Education
B.A. in Foreign Language (French) at St. Mary's College of Maryland, 2000

M.A. in Second Language Education at Ontario Institute for Studies in Education of the University of Toronto, 2001

Ph.D. in Second Language Education at Ontario Institute for Studies in Education of the University of Toronto, 2004

Certificate in MD Standard Professional Certification, French, Grades 7-12 at , current - 2018
Spotlight
Access for Success: Making Inclusion Work for Language Learners

Access for Success: Making Inclusion Work for Language Learners is the first educational text of its kind to integrate principles and theories about Universal Design for Learning and language learning with practical strategies to address the diverse needs of today's language learners in Canada.

Points de Connexion

With its focus on differentiation, Points de Connexion will help you reach every student in your Grade 9 Academic and Applied classes to improve their communication skills in French.

Jusqu'au bout!

Jusqu'au bout ! est une ressource électronique conçue pour les élèves de la 10e à la 12e année en français de base. Elle est entièrement construite autour des niveaux de compétence langagière du Cadre européen commun de référence (CECR), soit des niveaux A2, B1 et B2. C'est aussi la raison pour laquelle cette ressource peut être utilisée avec les apprenants en immersion française.