Professor of English
Department Chair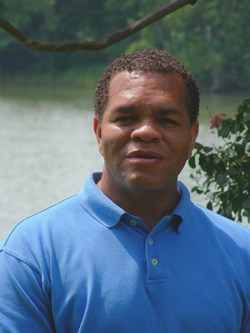 Biography
Jeffrey Lamar Coleman received a B.A. in Communications, with an emphasis in journalism and advertising, from Winthrop University, an M.F.A. in Creative Writing, with an emphasis in poetry, from Arizona State University, and a Ph.D. in American Studies, with an emphasis in literature and culture, from the University of New Mexico. Between undergraduate and graduate studies, Coleman worked on Madison Avenue as an advertising copywriter for Young and Rubicam, New York. Coleman is the author of Words of Protest, Words of Freedom: Poetry of the American Civil Rights Movement and Era, published by Duke University Press, and Spirits Distilled: Poems, published by Red Hen Press. He is an associate editor and poetry editor of The Journal of Hip Hop Studies, and has served as guest curator and editor for Delaware Poetry Review. His most recent creative and scholarly work can be found in Aunt Chloe: A Journal of Artful Candor, The Skinny Poetry Journal, Where We Stand: Poems of Black Resilience, and The Black Intellectual Tradition: African American Thought in the Twentieth Century. His recent courses include Scream and Shout!: American Literature and Music as Social Protest; From Thoreau to January 6: Democracy, Civility, and Community in American Letters, and Literature of the American Civil Rights Movement.
Areas of Research Specialization
Literature of the American Civil Rights Movement
Music of social consciousness and protest
Twentieth and twenty-first century literature
Areas of Teaching Specialization
Contemporary American literature
Creative Writing
Multiethnic literature
Education
B.A. in Journalism at Winthrop University, 1987

M.F.A in Creative Writing/Poetry at Arizona State University, 1993

Ph.D. in American Studies at University of New Mexico, 1997
Spotlight
Words of Protest, Words of Freedom: Poetry of the American Civil Rights Movement and Era

Poetry is an ideal artistic medium for expressing the fear, sorrow, and triumph of revolutionary times. Words of Protest, Words of Freedom is the first comprehensive collection of poems written during and in response to the American civil rights struggle of 1955–75. Featuring some of the most celebrated writers of the twentieth century—including Maya Angelou, Amiri Baraka, Gwendolyn Brooks, Allen Ginsberg, Robert Lowell, and Derek Walcott—alongside lesser-known poets, activists, and ordinary citizens, this anthology presents a varied and vibrant set of voices, highlighting the tremendous symbolic reach of the civil rights movement within and beyond the United States.

Some of the poems address crucial movement-related events—such as the integration of the Little Rock schools, the murders of Emmett Till and Medgar Evers, the emergence of the Black Panther party, and the race riots of the late 1960s—and key figures, including Martin Luther King Jr., Malcolm X, and John and Robert Kennedy. Other poems speak more broadly to the social and political climate of the times. Along with Jeffrey Lamar Coleman's headnotes, the poems recall the heartbreaking and jubilant moments of a tumultuous era. Altogether, more than 150 poems by approximately 100 poets showcase the breadth of the genre of civil rights poetry.

Selected contributors. Maya Angelou, W. H. Auden, Amiri Baraka, Gwendolyn Brooks, Lucille Clifton Lawrence Ferlinghetti, Allen Ginsberg, Langston Hughes, June Jordan, Philip Levine, Audre Lorde, Robert Lowell, Pauli Murray, Huey P. Newton, Adrienne Rich, Sonia Sanchez, Léopold Sédar Senghor, Derek Walcott, Alice Walker, Yevgeny Yevtushenko

Spirits Distilled: Poems

This debut collection of forty-five poems explores a range of subjects, including the 1998 dragging death of James Byrd, Jr., former Yugoslav president Slobodan Milosevic, September 11, the war in Iraq, and the Abu Ghraib prison scandal.

The collection also contains poems about the 2001 massacre of Nepal's royal family, people living with AIDS, the Confederate Flag issue in South Carolina, and the influence of Gwendolyn Brooks and James Baldwin.

"This new work by Jeffrey Coleman fixes on something that can't be easily described—sudden and ever-freshening combinations of emotion and language raising an imagery of extra meaning that has always been the secret of poetry. These are poems you have not read before, spoken in voices at once novel and complexly sedentary as in a moon geology. The literal courage of this work is inseparable from the first caliber of mind."

-- Norman Dubie

 

Delaware Poetry Review Guest Editor and Curator, Spring 2013

"Poetry in the Delmarva region continues to blossom and it has been my privilege to gather some of the area's most eclectic voices for this issue of Delaware Poetry Review. My goal was to locate gifted individuals who represent a range of experiences, from well-known and established writers, such as Nikki Giovanni, to talented, emerging poets who have the potential to fill our lives with beautifully expressive lines and stanzas for years to come.

"Caitlyn O'Flaherty, a recent college graduate, and Emante Washington-Mobley, a high school senior, fall in this category, as do the other poets collected here who fit within the broad poles of experiences represented by Giovanni and Washington-Mobley.

"All of the writers gathered here, as their poems make clear, are dedicated to their craft and deserving of increased attention. I hope this issue finds the eyes and ears of poetry lovers not only in Delaware, Maryland, and Virginia, but of those in other parts of the country and beyond."