Professor Emeritus of History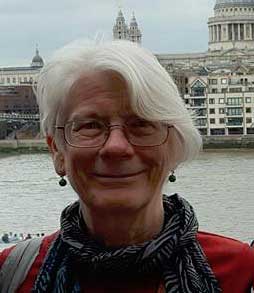 Biography
Dr. Gail Savage just led her Fall 2011 HIST 328 (British History to 1688) class on a one day trip to Washington, D.C. to Visit the Folger Shakespeare Museum. She published her most recent journal article, "They Would if They Could: Class, Gender and Popular Representation of English Divorce Litigation, 1858-1908," in the Journal of Family History, April 2011. Dr. Savage's most recent conference presentations include:
"Domestic Unhappiness; Global Possibilities: Marriage and Divorce on the Imperial Stage, 1858-1908," at the British Scholars Conference in Austin, Texas during Spring 2011.
"Paternal Oversight: Child Custody and Divorce in the Nineteenth Century," at the North American Conference on British Studies in Baltimore, MD, in November 2010.
"The De-regulation and Re-regulation of Marriage: The Impact of the Second World War on Divorce and Marriage in England," at the American Society for Legal History in Dallas, Texas, in November 2009.
"Caroline Norton: Victorian Feminism, Constructing the Feminist Past, and the Problematic Foremother," at the joint meeting of the American Victorian Studies Association and the British Victorian Studies Associations at Cambridge, UK, in the summer of 2009.
Dr. Savage was also invited to give the plenary talk, "Major Seton, in the Dining Room, with a Pistol: Adultery, Murder and Divorce in Post World War I England," at the Mid-Atlantic Conference on British Studies in April 2009. Savage has published widely on the history of  social policy.  Her book, The Social Construction of Expertise: The English Civil Service and its Influence, 1919-1939 (1996), examined the role of the civil service in the development of social policy. Her work currently focuses on issues of divorce, marriage and domestic abuse during the nineteenth and twentieth century.  In the 2000-2001 academic year, a Post-Doctoral Fellowship awarded by the American Association of University Women supported the research for her book on the history of divorce, "Breaking Up is Hard to Do: Divorce and Divorce Law Reform in England, 1857-1937." On sabbatical for the 2007-2008, Professor Savage had an appointment as a Visiting Scholar in the History Department of Oxford Brookes University to complete this project. In Fall 2009, Savage began a five-year appointment as co-editor of book reviews for the Journal of British Studies. Her recent publications include: "...the instrument of an animal function:" Marital Rape and Sexual Cruelty in the Divorce Court, 1858-1908" in Politics of Domestic Authority, (ed) Lucy Delap, September 2009 (link) "More than One Mrs. Mir Anwaruddin:  Islamic Law and Christian Marriage in Early Twentieth Century London," Journal of British Studies, April 2008 (link) "'A State of Personal Danger': Domestic Violence in England, 1903-1922." In Assaulting the Past: Placing Violence in Historical Context, Cambridge Scholars Press, 2007 (link)