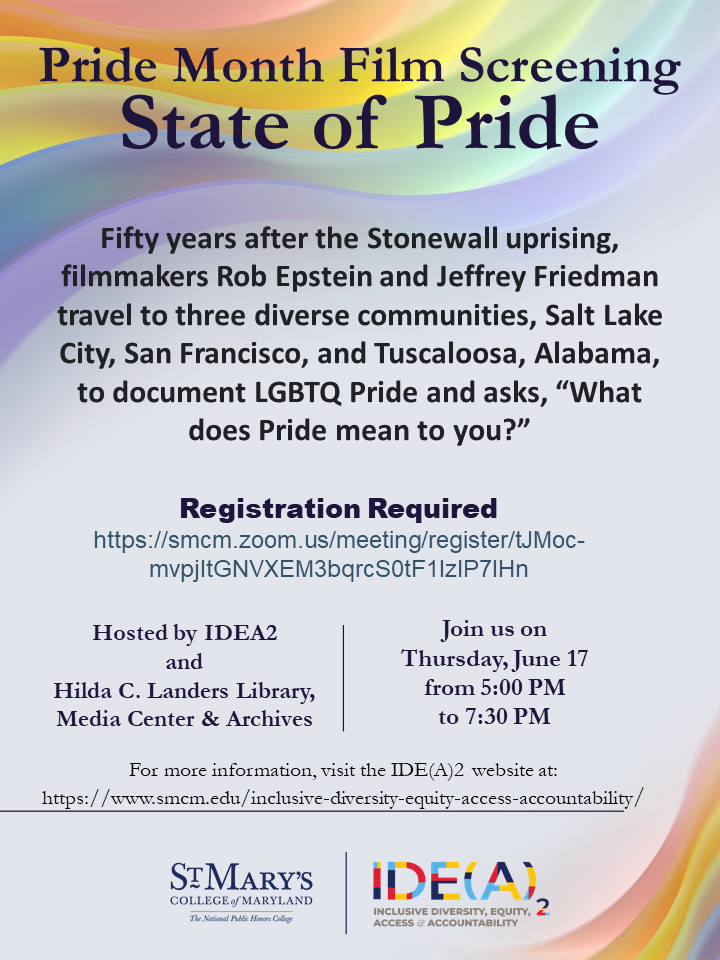 In recognition of Pride Month, and as part of the ongoing Awareness Month Film project, IDE(A)2 and the Hilda C. Landers Library, Archives & Media Center are pleased to present the YouTube documentary State of Pride as the June film offering.  
We invite the entire community to join us for the virtual screening on Thursday, June 17 at 5:00 pm, followed by an engaging and interactive discussion at 6:15 pm.
About the Film:
Fifty years after Stonewall, the focus and events of Pride have transformed in certain major and controversial ways, but the soul remains the same. Combining archival footage with the modern-day experience, this engaging documentary—which features appearances by local icon Heklina and pop sensation Troye Sivan—centers around activist and esteemed social media influencer Raymond Braun as he travels to Pride events in Alabama, Utah, and San Francisco. He meets dozens of people and asks the question: "What does Pride mean to you?"
The fascinating, poignant answers illuminate what matters to the LGBTQ+ community today. Part celebration and part protest, Pride amplifies unheard voices and provides a place for people to connect, come out, and share the love. In a fragmented world where the internet often serves as our isolated, flimsy meeting ground and while the LGBTQ+ community continues to face institutional and social challenges every day, it's clear that gatherings like Pride are more meaningful than ever.
Registration Link (Zoom): https://smcm.zoom.us/meeting/register/tJMoc-mvpjItGNVXEM3bqrcS0tF1IzlP7IHn
Complete details about the event and the documentary can be found on the IDE(A)2 website.