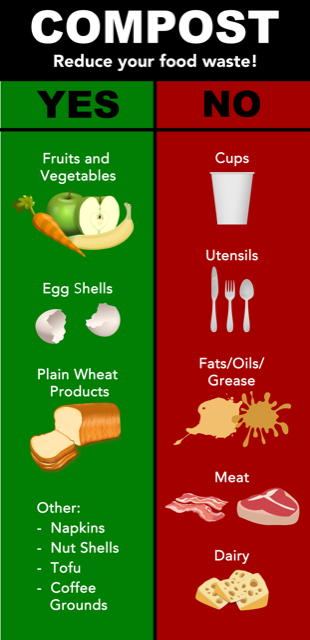 Hello students!  Welcome back for another semester at SMCM.  If you live on campus, the Office of Sustainability would love for you to take advantage of our compost program!  If you're already taking part thank you so much for helping make St. Mary's a more sustainable campus!!  Here is a quick and easy guide to our program.
Who: any student living on campus can take part
What: the Office of Sustainability collects compost and takes it all to the Kate Chandler Campus Community Farm to be used to grow food
Where: put any of your compostable items into the white bucket provided to you.  The sticker on the bucket lets you know what is compostable, as does the fabulous poster provided in this announcement.  If you do not have a bucket and want to take part, email sustainability@smcm.edu and we will get a replacement out to you.
When: collection happens every Friday at around 3pm so please have your buckets outside and accessible for collection