June 10, 2022
By Kathy Pusecker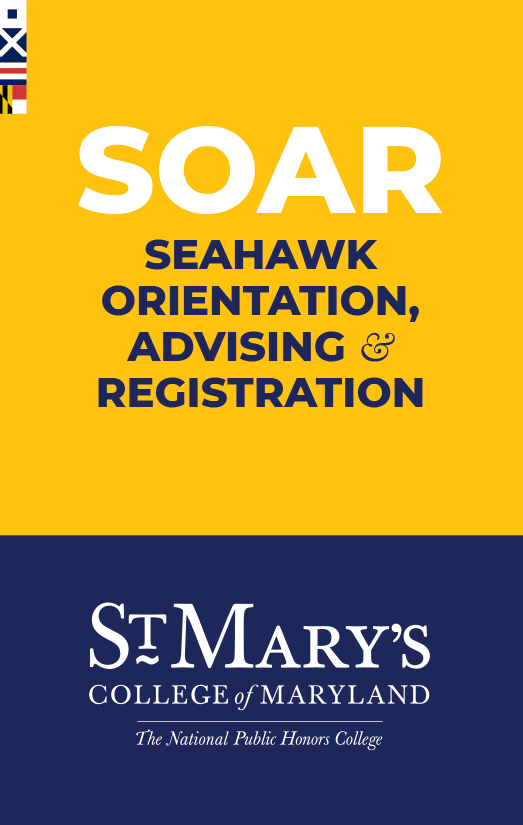 St. Mary's College of Maryland New Student Experience Team will welcome the newest Seahawks and their families to our community this summer. Seahawk Orientation, Advising and Registration (SOAR) is an on-campus event established as a student's roadmap to becoming a successful Seahawk. This summer experience is designed to best meet the needs of students and their families. Face-to-face SOAR begins on Thursday, June 16, and continues on Friday, June 17; the following Thursday, June 23; and Friday, June 24. Students and two family guests will attend only one of those days.
Student Orientation leaders are thrilled to welcome new students to campus in person. "All of a sudden, after meeting new people and learning more about the campus, new students look at our St. Mary's River and finally see themselves as a Seahawk," said senior economics major Emmanuel Ofwono.
Lizzie Gil, a senior anthropology major with minors in dance and museum studies, said, "New students will meet orientation leaders from a variety of backgrounds and majors, so they can easily make connections."
"Moving from high school to college is a major transition in a student's life and can be challenging," according to Andre Richet, director of student engagement at St. Mary's College of Maryland. "By providing activities for students to make meaningful connections and feel  supported academically, we ensure that the transition is easier and that all students are accepted and welcomed as a Seahawk."
After attending SOAR, students will have a one-on-one appointment with their summer academic adviser via Zoom to work out their individual course plan.
In addition, we have three virtual Hawk Talks scheduled for students and family members about important topics such as academics, campus life, student success and transitioning to college. Hawk Talks will occur on July 26, August 2 and August 9 at 7:00 p.m.
Details about these experiences and registration for SOAR has been shared through the student Applicant Gateway page, as well as via emails to students and families. The Office of Admission will continue to communicate with our new Seahawks and their families about these and other topics related to the first year at SMCM throughout the summer.
If members of the St. Mary's College of Maryland community have any questions, please contact admissions@smcm.edu, and we will be happy to respond.