-
Add to Calendar
2021-04-22 20:00:00
2021-04-23 22:00:00
Coed Soccer 4v4 Tournament - open to all on campus
Put Your Team Together For A Coed 4v4 Soccer Tournament! Hosted by SMCM Club Sports Soccer SMCM Club Soccer is hosting a 4v4 co-ed tournament on the evenings of April 22nd and 23rd.   We will run the tourney from 8pm-10pm each night at the Jamie L. Roberts Stadium.  Details: 30-minute games All students from SMCM invited Roster max. of 6 Games will be masked Limit of two (2) varsity soccer players per team (men or women) Must have at least one woman on the field at all times All players will be required to fill out a release waiver and receive a Covid Rapid Test before they are allowed to play.   (The Covid test will be provided the day before by the Club Sports Coordinator) Teams must agree to follow Covid regulations in order to play Prizes for the winning team! Sign up your team HERE! Questions?  Contact  Maribeth Boeke Ganzell (mbganzell@smcm.edu)
Jamie L. Roberts Stadium
SMCM- athletics/club sports
maribeth boeke ganzell
America/New_York
public

Jamie L. Roberts Stadium
Free
Registration Required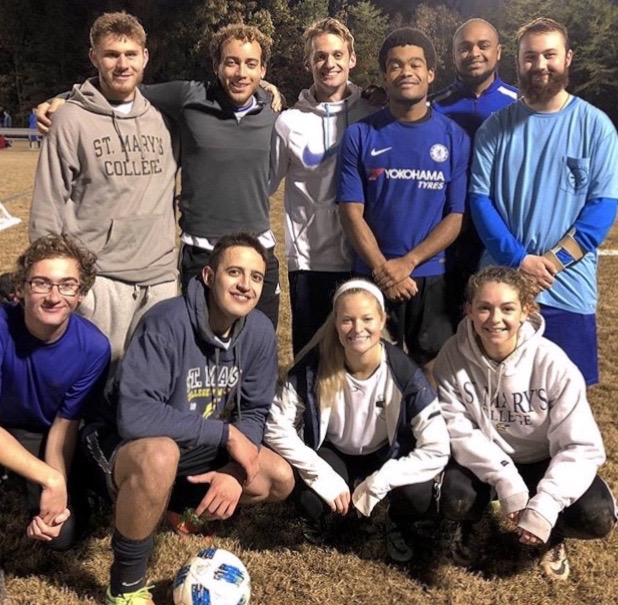 Put Your Team Together For A Coed 4v4 Soccer Tournament!
Hosted by SMCM Club Sports Soccer
SMCM Club Soccer is hosting a 4v4 co-ed tournament on the evenings of April 22nd and 23rd.  
We will run the tourney from 8pm-10pm each night at the Jamie L. Roberts Stadium.  
Details:
30-minute games
All students from SMCM invited
Roster max. of 6
Games will be masked
Limit of two (2) varsity soccer players per team (men or women)
Must have at least one woman on the field at all times
All players will be required to fill out a release waiver and receive a Covid Rapid Test before they are allowed to play.  
(The Covid test will be provided the day before by the Club Sports Coordinator)
Teams must agree to follow Covid regulations in order to play
Prizes for the winning team!
Sign up your team HERE!
Questions?  Contact  Maribeth Boeke Ganzell (mbganzell@smcm.edu)
Event Sponsor(s)
SMCM- athletics/club sports
maribeth boeke ganzell
mbganzell@smcm.edu
9092412853
Event Group
Student Activities
Club Sports
Club Soccer
Programs Board
Athletics
Social Gathering