Visiting Assistant Professor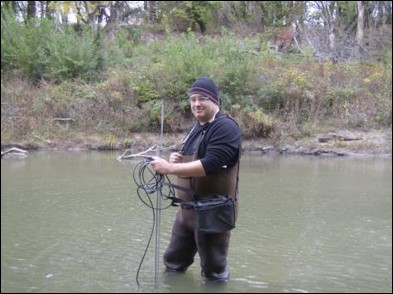 Biography
Dr. Hitchman is a broadly trained aquatic ecologist specializing in species-habitat relationships in both freshwater and marine ecosystems. As an ecologist Dr. Hitchman is concerned with two realities humans are faced with today: human alteration of aquatic habitat and the overwhelming decrease of biodiversity. He believes an interdisciplinary and multi-scale approach to understanding species-habitat relationships is paramount to the conservation of aquatic ecosystems and native biodiversity.
Current and past research projects can be classified into three general areas:
1) Evaluation of patterns and processes regulating fish species/communities and overall diversity in marine and freshwater ecosystems
2) Effects of local and regional anthropogenic (human-induced) impacts on diversity-ecosystem relationships
3) Understanding species-habitat relationships in aquatic ecosystems.
Current research projects at SMCM include the use of environmental DNA to examine fish diversity in Maryland streams, observing the role of ontogeny on intraspecific competition and foraging behavior for an estuarine fish (Fundulus heteroclitus), and tracking microplastic gradients along the St. Mary's River.
Areas of Research Specialization
Marine and Freshwater Ecology
Fish Biology
Marine Sciences
Education
B.S. in Marine Sciences at University of South Carolina, 2004

M.S. in Marine Sciences at University of San Diego, 2011

Ph.D. in Biology/Aquatic Ecology at Kansas State University, 2018