Assistant Director of Alumni Relations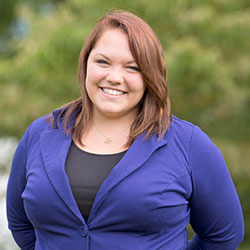 SMCM Alum , Class of 2014
Biography
After earning her B.A. in Psychology from St. Mary's College of Maryland in 2014, Lauren held temporary contracts in the Offices of Alumni Relations, Admissions, and Student Activities before beginning her position as Assistant Director of Alumni Relations in January 2016.
She sits on a number of campus-wide event planning committees and also serves as an adviser to the following student groups: Seahawks Advancing Graduate Engagement (SAGE), The Nightingale A Cappella (TNA), and Interchorus. She is a Council for Advancement and Support of Education (CASE) Member and has attended the following professional development CASE conferences: 2016 District II Conference and 2017 Homecomings, Reunions, and Alumni Engagement.
As a St. Mary's College student from 2010-14, Lauren was a frequent member of the Dean's List and served as Alumni Event Coordinator, Admissions Tour Guide and Student Counselor, Orientation Leader, Chair of Student Conduct Board, SafeRide Supervisor, Resident Assistant, Dean's Advisory Council Member, Academic Services Peer Advisor, and Secretary of The Nightingale A Cappella. She was inducted into Psi Chi, the International Honor Society in Psychology, in 2012 and attended the domestic study tour "Anthropology & Museum Studies in the American Southwest" in 2013. She presented her St. Mary's Project, "Strategic Self-Presentation and Sexuality in Gay, Straight, and Bisexual Online Dating Profiles," at an Eastern Psychological Association Research Conference in Philadelphia, Pa. in 2015.
Hailing from Columbia, Md., she currently lives in Tall Timbers, Md. with her dog Cooper and cat Sarabi.
Job Description
The Assistant Director of Alumni Relations reports directly to the Director of Alumni Relations and is responsible for the promotion of events, news, and initiatives encompassing all aspects of alumni relations and marketing through social media, additional online communication tools, and print materials. The Assistant Director of Alumni Relations serves as the primary editorial point of contact and content developer for the alumni e-newsletter, online alumni communities, alumni website, and other online cultivation resources utilized by the Office of Alumni Relations. This position is responsible for gathering information from and collaborating with colleagues in all units of Institutional Advancement to increase alumni participation in St. Mary's College of Maryland and to foster meaningful lifelong relationships.
The Assistant Director of Alumni Relations, working closely with the Associate Director of Alumni Relations, also plays an integral role in the planning and execution of signature events including Alumni Weekend, Hawktoberfest, Giving Tuesday, Bay to Bay Service Days, regional chapter activities, and quarterly Alumni Council meetings. Involvements include, but are not limited to, set up and break down support, registration tabling, overseeing volunteers, and event photo and video documentation.
Internal Affiliations
Education
B.A. in Psychology at St. Mary's College of Maryland, 2014